BY CHARLES KUMOLU
Life Coach, Lanre Olusola, in this interview says Nigeria needs to commence action to bring the country back to the path of value system. He also offers insight into how he intends to carry out the mandate alongside Pastor Wale Adefarasin. Olusola, who works    with individuals, organizations and government agencies to transition from where they are to where they desire and are designed to be, believes that if families are successfully transformed, Nigeria's transformation  will become a reality.
Assisting people discover and rediscover their life goals are quite familiar to you, was that the reason for the      Mind the Gap marriage programme?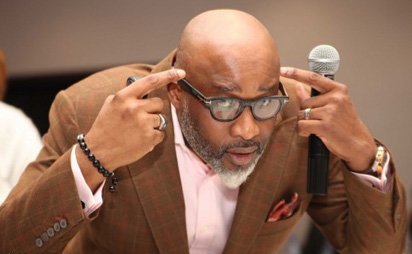 Last year, based on my assessment of the clients    that I had and the frequency of the issues that came to me that were family related and    relationship related, I did an assessment and realised that there is a serious problem in family life and marriages. I decided to sit down and ask myself what I can do to help people solve their family problems besides people coming to me. I thought about a concept that would highlight peoples' challenges and how to resolve those challenges in a group setting rather than one-on-one. And we thought about what to call it and decided on Mind the Gap. Based on the challenges I personally witnessed during my coaching of individuals, I realised that there are many gaps. So how do we begin to bridge the gap? Last year we had a programme for people that were dating, married and engaged, who came together to talk about the issues that affect them. And we did research to identify the top critical areas that they were having issues in. We created a theme for each of those critical areas. So at the end of the year, I was happy for what we were able to do. At the beginning of 2016, I asked God about the area he wants to channel all the gifts, blessings and knowledge he has given me and the Lord said he wants me to focus on family and marriage in 2016. And I met with Pastor Wale after that and he said why don't we meet to discuss about how we can add value and transform this country Nigeria. I came over to his office and asked him what his burden was and he said his burden was around family because if we could equip and restore families which are the heartbeats of our nation, things will be better in our country.    It is the family unit that creates the community and it is the community unit that creates the states and it is your state that creates your nation and it is the combination of nations that come together to form a continent and it is the continent that forms the world.
On concept of change
Imagine if we are able to transform families in Nigeria, we would have successfully transformed Nigeria.    With this concept of change, we asked how we can do our part because we are not in politics but where and how can we make our own contribution and how can we make sure that the contribution is felt. So we sat down and developed five themes for 2016. So every other month there is a programme that we are running. In March we did the first one that is called the foundation and the five pillars that you will build your home and your family on. On June 4 2016, we are doing a second one called Family, Marriage and Financing. There are other three themes which are; fertility, children and how to bring children up within your home and your family. There is also another one that we are doing where we are dealing with emotion, we are dealing with conflict, and we are dealing with relationships with people in the society. And the last one we are going to do is a couples retreat in December to access how 2016 has been and how to set goals for 2017. At that stage, we will begin to equip them on how to do it.
Having identified the peculiar marriage challenges in your findings, how best can they be addressed towards the development of impressive value system?
The first one is ignorance. A lot of individuals that get into marriages are ignorant. They are ignorant about who they are, they are ignorant about why they are here, they ignorant about the problems that God sent them to this world to solve as individuals and they are confused. They don't know where they are going to and they don't know where they are coming from. So they take this confusion and then confuse each other in an environment called marriage. With two confused dysfunctional people, they create a dysfunctional environment and then they produce children in a dysfunctional environment. Eventually, they create a dysfunctional family. Now a dysfunctional family relates with dysfunctional families and create a dysfunctional environment. And then there is dysfunctionality in the country. The second thing is selfishness. A lot of individuals that get into marriage are selfish. Marriage and family are institutions where only selflessness breeds the right outcome. The third thing is infidelity. A lot of homes are experiencing infidelity because of societal pressure. The fourth thing is finances. Money and pursuing money brings about problems. It does that directly and indirectly. It happens when both of them are running a local government by providing power, security and others. So they have to work.
Both of them have to stay out till 10 pm because they are pursuing money. Each one of them is focused on pursuing money and that is where their hearts is. By virtue of that, their hearts are not in the marriage and their partners. And so they lose focus of the most important things which are their home and marriage. Another one is that when the money starts to come it brings about conflict between both of them. Money that they thought would be solution to their problem becomes the heart of their problem. They don't know how to manage thereby losing the money, and then they have disunity about what to do with it in terms of handing over the money to their children.
On emotional intelligence
Another one is lack of emotional intelligence. They are unable to manage their emotions and stress, so they go out there to look for money by the time they come back they are stressed and they transfer that stress to their spouses and talk to them anyhow. And the spouse may be the type that suppresses emotions and they do it always and one day they will decide to explode. Suddenly, you will hear stories of husbands of killing their wives. It is as a result of lack of emotional stability or lack of emotional intelligence. A lot of those issues are at the heart of where the challenges come from. Also, a lot of people are not psychologically balanced in terms of mental and emotional health. People need to go and check themselves out because many are not okay. By the time you are in traffic for six hours every day and come home to a house where there is no light, you are afraid for your life because of armed robbery attack, and you don't have the wherewithal to move away from that environment to another environment, you become stressed. These things will create a lot of issues if they are not tackled.
Do you see divorce as the best way of resolving marital challenges that defy solution? Is it really an option?
Yes, it is and I am sure a lot of people will be wondering why I, a Christian, who is supposed to be a role model is saying yes. If both individuals are unaware and they don't want to be aware and they are unwilling to make sacrifice because marriage is about sacrifice, unwilling to be selfless, unwilling to commit themselves to the handwork that is required, they will transit from that position to a position where they will begin to abuse each other. Through that, they will be creating a dysfunctional environment that will cause more harm to their children.
If they have got to the point where they are about to destroy each other, what is the purpose of staying in that marriage when your lives will be destroyed? God does not want the destruction of lives. If to get your life back on track is to be divorced or separated, if that is going to get you back to your purpose, if that is going to get you back in line with what God has ordained for you, then the option becomes necessary. A lot of people have wrongly got into marriage and a lot of people have married the wrong people and their destinies are being shipwrecked. Such people should reassess and see if they made a mistake but if you are unwilling to resolve the issues, then it's okay to go different ways.
We recommend separation until both have got help individually. So, we recommend separation that can lead to restoration, we recommend separation that can lead to divorce if the couple are aware and unwilling to make sacrifice for restoration.
Much has been said about the dearth of value system in Nigeria and the government's failure in that respect. What are the things you think should be done differently to achieve good results?
There is nothing called government, they are individuals that make up the government. Unfortunately these individuals are our leaders, they have families as well.
They need to go back to the basics and understand what the real values are and what their standards and God's standards are. We are not talking religion, whatever religion you practice, you serve a god and that god that you serve has a standard. Who instituted the concept of family, government and governance? Is God. So we have to go back to God's standards of governance, family and marriage. When we all go back to the basics, we will begin to live those basic standards. We need to indentify behaviours and habits that are leading us away from these standards that I have indentified and we need to go back to those behaviours that are in line with God's standards.
We need to ask ourselves if we make policies that are beneficial to the masses, if not we need to go back and ask ourselves if really we are a government for the people and elected by the people.
Subscribe for latest Videos