Senator Theodore Ahamefule Orji, immediate past governor of Abia State presently represents Abia Central Senatorial District in the Senate. In this session with journalists, the former governor speaks on developments in the Peoples Democratic Party, PDP, issues arising from proposals for a grazing reserve among others.
By Emmanuel Aziken, Political Editor
The Peoples Democratic Party (PDP) ward, local government, and state congresses held without any rancour. As a good party man, what were your observations?
Well, as a good party man I participated in the congresses at the ward, local government and state levels. And my impression about it is that this concept we have about rebuilding PDP is working.
But PDP at the national level seems to be having some problems. What is your take on this development?
These things are things that are expected of a party that has a lot of people with diverse interests.
Do you support the proposal to create grazing reserves in the states?
My position on this is guided by the position of my people where I come from.
Limited, scarce farmland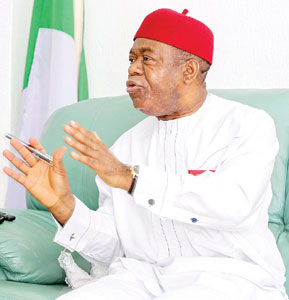 I'm a Nigerian, I agree, but I come from the Southeast. And if you go around the Southeast, you will know that there is no person who supports this issue of allowing cattle to come and graze freely because they come and destroy the farms. We are farmers, and we guard our farms jealously plus the land because land is very precious to us.
We don't have that expanse of land, so whichever that is yours, you guard it jealously. So it is very painful when you see cattle coming to graze freely on your limited, scarce farmland. And these herdsmen come with impunity, carrying guns, threatening to kill you if you disturb them. That shouldn't be tolerated in this country. Cattle rearing is a private business. Cattle rearing I know very well, when we were very small in Umuahia where I was born, there was one Alhaji Bako Mohammed.
He lived in Umuahia; his business was selling cattle. He will go to Kano and buy a lot of cattle, put them on the train, and transport them straight to Umuahia. He had herdsmen whom he paid, who took care of the cattle. We lived harmoniously with them, and after grazing they would transport them to Port Harcourt and sell and kill. Even if any cow strayed and entered any farm, you didn't fight with the herdsman.
You just went to Alhaji Bako Mohammed, and he would call them to order. Why is that not happening again? And the point I want to stress here is that these cattle are owned by wealthy people.
They are not owned by these people who follow the cattle and take them to graze. Rich men own the cattle. Do you know how much AK47 costs? It's wealthy men that buy these guns and give to herdsmen. So I don't support the idea of free grazing.
What I know is that cattle rearing is a private business; they should leave the private sector to drive it. These wealthy men who own these cows should go and buy land and develop ranches where these cattle will stay and feed, and people will go there and buy the cattle for their use.
Or if the government wants to come into it, then the government should look towards the arid areas and import grasses to feed the cattle. It's done in Israel.
There are some deserts that are now fertile in Israel. Let them make those places fertile and grow grasses so that these animals can go there and graze. Nobody will accept that. So my suggestion is that private people should go and establish ranches.
But is it true that there is a grazing bill before the Senate?
There is no bill like that in the Senate. The senators were highly embarrassed when our numbers appeared in an online media outfit. So they picked our numbers from there and started bombarding us with insults. "Ah you are there, and this type of bill is on, and you are not doing anything.
Okay, finish and come home." Some of them will say "okay you are there, we will recall you." There were all sorts of insults, and we started looking for the bill, but there was no bill like that in the Senate. And to those who were phoning me, I was explaining plainly to them without insulting any person. But some people on social media used that to castigate some senators, even myself.
One girl called me one day and while I was explaining to her, the woman charged. I didn't know her.
Parcel of the blackmail
The next thing she did was to write my name that I was supporting the grazing bill, a bill that was nonexistent in the Senate. So that is part and parcel of the blackmail. Politicians are used to blackmail but eventually, one day, the truth will surface.
Your Bill on Food Security was well received by senators. Can you throw more light on this bill?
Of course, the importance of agriculture has made people shift attention to that, and you have to make laws that will at least make food production to be of priority. So that Food Security Bill that I sponsored is a bill that will ensure that food reaches every person. It will remove hunger.
There are people who are hungry in this country. There are people who cannot afford two good meals in a day, the poor in the village. So the bill is aimed at making sure that they get what they can eat, including those who are disabled, including women who are mothers who are breastfeeding their babies.
So it's a bill that is very dear to me, and I'm happy that it was received very well in the Senate and once it's passed into law and implemented you will see the result. It will be for the benefit of every person both the rich and the poor.
You are a member of Senate Committee on Health. Recently the Obafemi Awolowo University Teaching Hospital, Ile-Ife, performed six successful open heart surgeries. How do you feel about this breakthrough?
It's interesting, but that is not the first time. I know that they have had open heart surgery in Lagos. That will show you that we have Nigerians who are ready to do very well in the medical sector.
Teaching hospitals
If you go to the US, to the UK, most of the Doctors who are working in those big teaching hospitals are Nigerians. They are using their talents to develop other countries, and we want them to come back and help out. But those Doctors who are here need just the push, the facilities, the incentives and you will see that they will excel. That one in OAU is a typical example of that. Give them the little incentive, give them the equipment and make the environment very conducive for them you will see that they will perform.
As it's done in OAU, so also it will be done in Nsukka, done in Ibadan, done in Maiduguri, done in Kano or Sokoto where you have teaching hospitals.