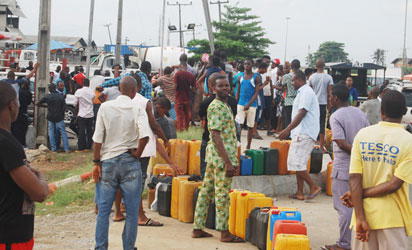 Long queue of jerry cans at a petrol station as fuel scarcity bites harder, yesterday.
By Ediri Ejoh, Prince Okafor & Iloaze Blessed-Odidi
Barely 24 hours after reports indicated the possibility of partial deregulation of the downstream petroleum sector, and days the country had a breather from scarcity, long queues have resurfaced at filling stations across the country, as most of them indulged in product hoarding ahead of the deregulation.
This comes as  survey carried out by public opinion poll released by NOIPolls, revealed that 85 percent of Nigerians are buying the petrol above the regulated price of N86.50, per litre.
The Independent Petroleum Marketers Association of Nigeria, IPMAN, couple of days ago, had said, its members had overcome foreign exchange, Forex challenges as they have been granted Forex access to import petroleum products.
Also, Major Oil Marketers, MOMAN, disclosed to have more than 10 days stock at the depots, with about four other vessels not yet discharged, averaging 85million litres of petrol.
Vanguard gathered that buyers are again struggling to get the scarce product at whatever cost, leading to traffic logjam on major roads in the Lagos metropolis, while many of the stations visited along Apapa, Badagry Road, Ajegunle, Amukoko and Festac were shut down claiming they had no product.
Specifically, MRS, Mobil, at Festac, Total, and Faweye Oil and Gas claimed they had no fuel and were waiting for delivery soon.
The NNPC and Total at Second Rainbow, Amuwo, and Forte Oil, at Berger were dispensing at regular prices but had very long queues to contend with.
Meanwhile, depot owners in Apapa have refused to sell at the government approved ex-depot price, as a number of the depots in the area were allegedly selling petrol to marketers at about N90 and N95 per litre, far above the approved price of N76 per litre.
Specifically, most of the independent marketers' depots at Ibafon, such as Acorn Plc, Aquitane Oil and Gas Ltd, Ascon Oil Ltd, Eterna Plc, First Nigerian Independent Oil, Ibeto Petrochemical Industries, Sahara Energy Resources, SEA Petroleum & Gas Company, Taleveras Group of Companies, T-Time Petroleum Services, Zenon Petroleum And Gas, and Total Nigeria Plc, were not selling, as they said they have run out of the commodity.
Meanwhile, according to the latest public opinion poll released by NOIPolls, a majority of Nigerians, about 85 percent, bought petrol above the official pump price of N86.50; and at an average pump price of N176 per litre in April this year.
The report revealed that the North-East and South-East geopolitical regions of the country recorded the highest average prices of N199 and N194 per litre respectively.
"In addition, amongst the 85 percent who bought petrol above the approved pump price of N86.50, almost 6 in 10 (59 percent) respondents in this category bought the product between N150 and N250 per litre.
"Furthermore, 50 percent of respondents bought petrol from Independent Marketer filling stations, 24 percent from Major Marketer filling stations, and 14 percent from Black marketers; leaving only 12 percent who said they bought the product from Nigeria National Petroleum Corporation, NNPC filling stations."
Petrol for power
The Poll also revealed that perennial power outages contributed significantly to the petrol scarcity as about 73 percent of respondents said they use the product to power their 'generators'.
"Similarly, 58 percent use petrol to power 'cars' and 28 percent use petrol to power 'Tricycles & Motorcycles' popularly known as Keke and Okada. Finally, the poll highlighted the mixed opinions expressed by Nigerians on the issue of petrol subsidy, as 48 percent say they support subsidy removal of subsidy, while 52 percent say they do not support the removal."
Furthermore, the survey revealed that "about 8 in 10 adult Nigerians (81 Percent) say they bought petrol in April 2016; with about 50 percent of that population buying products from Independent Marketer filling stations despite NNPC being the sole importer of the refined product.
"The South-East zone (68 percent) presented as the zone with the highest in this category."
Continuing, the report said that "24 percent confirmed that they bought petrol from major marketers and the South-West zone (33 percent) accounted for the largest proportion of Nigerians in this category which can be attributed to the heavy presence of Petroleum Products Pricing and Regulatory Agency (PPPRA) to ensure that marketers comply with the official pump price.