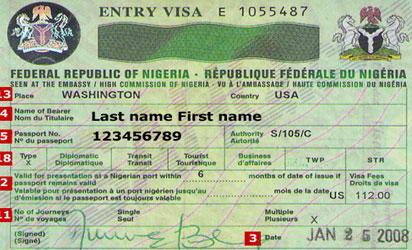 Nigerian visa
The Minister of Foreign Affairs, Mr Geoffrey Onyeama, says plans have been concluded to sign visa-free pacts with a bloc of eight African countries to promote economic partnership on the continent.
Onyeama announced this in Abuja on Tuesday at a news confernce to mark one year of President Mohammadu Buhari's Administration.
The minister, who did not disclose the names of the countries making up the bloc, noted with concern that trading among African countries had been very low.
He, however, said that with the new idea by the President Mohammadu Buhari led administration, "it is expected that there will be upsurge in economic activities.
" Africa is the centrepiece of our foreign policy but it is a paradox that as a Nigerian, you cannot go to an African country without a visa unlike what is obtainable in Western Europe.
"To address this as a leader in the continent, the country is at a point of introducing an initiative to promote African trade as part of the country's foreign policy of Africa as the centrepiece", he said.
Onyeama said Nigeria was trying to come up with an initiative, like the one in Western Europe where one could enter any sister country without a visa.
According to him, what we are trying to do at the ministry is to promote visa-free, free movement of business people.
"We want to start with about eight countries or see if they come up as a group of eight countries. At the presidential level, they agreed to that, and signed up to free movement.
"If we can achieve that within a year, then other countries may want to join and we believe this is a better way to go than institutional ECOWAS etc, as countries take so long to ratify agreements.
"We believe we can just start off, eight countries and they agree among themselves, then others will come in," he said.
Onyeama also added that it would not help if the continent continued to export just raw materials to developed nations.
He said the Ministry of Industry, Trade and Investment was working towards enhancing doing business with ease in Nigeria.
Onyeama said the ministry was working with the immigration to see rise in the number of visa issued to businessmen and investors
"It is one of the cardinal strategies for the Ministry of Industry, Trade and Investment to facilitate investors doing business in Nigeria", he said.
Onyeama said the Ministry of Industry, Trade and Investment had been mandated to ensure that there was reduction in the time it took to register companies.