By Abdulsalam Muhammad
KANO—Governor Abdullahi Ganduje has suspended the five kilometres road initiated by his predecessor, Rabiu Kwankwaso across the 44 local government areas of the state.
Similarly, the state government has also suspended the joint project on technical schools across the state, due to paucity of funds.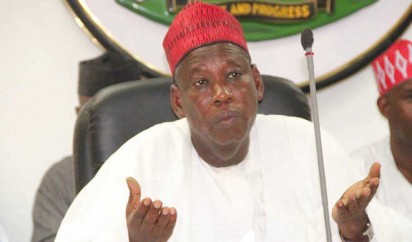 Ganduje, who spoke at the Coronation Hall, as part of activities to mark his first anniversary in office, said that it was an open truth that most the projects were jointly financed by the state and the 44 councils.
He noted that due to the financial crisis affecting local governments in the state, government could no longer pay monthly salaries.
The Governor explained that the five kilometre road project was capital intensive and a huge investment hence the need to suspend the projects.
Ganduje said when he came on board, he promised to continue with most of the projects inherited, as well as executing new ones but the "paucity of funds, coupled with dwindling resources informed my government to stop most of the projects inherited."
The Governor said due to the economic downturn that arose from free fall in oil price had forced the federal allocation accruable to the state to drop from N5 billion to N2.6 billion, stressing that it made his administration to look inwards to Internally Generated Revenue (IGR) as bail-out.
Ganduje said the state had engaged a consultant to manage the IGR, adding that with the present zeal and commitment, the IGR had automatically increased.
Also, Ganduje hinted that the 1,300 anti-graft cases in which some civil servants were caught trying to defraud the state was already in court.