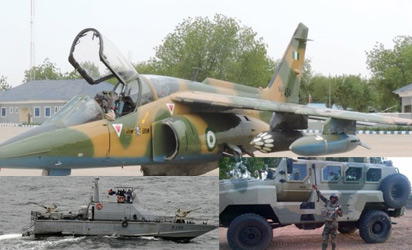 Niger Delta Avengers: FG deploys 5 warships, 100 gunboats, fighter jets to Delta creeks
By Emma Amaize, Samuel Oyadongha, Sebastine Obasi, Egufe Yafugborhi, Akpokona Omafuaire and Perez Brisibe
The federal government, yesterday, deployed an armada of five warships, 100 gunboats and fighter jets to the creeks of the Niger Delta, in response to continued bombing of oil and gas pipelines by Niger Delta Avengers, NDA.
This heightened tension in the coastal communities of Southern Ijaw Local Government Area, even as helicopter gunships were seen hovering at low altitude in the predominantly riverine council.
It was gathered that while the Airforce deployed the fighter jets and helicopter gunships, the Army swooped on four more Ijaw communities in Gbaramatu Kingdom, Warri South West Local Government Area, Delta State, for the militants.
Bayelsa travellers from the hinterland, confirmed the large military presence in the tricky mangrove swamp of the council, which at the height of youth militancy, had the largest concentration of militant camps in the Delta.
"There is a massive security operation going on in the area. Fighter jets and helicopter gunships have been hovering around the airspace at low level, apparently on surveillance mission. Many of the natives are worried about the development," said Ayebatari, an indigene of the area.
However, an Agip source told Vanguard that the company had, amid tight security, commenced repair of the damaged section of  Tebidaba-Brass delivery line destroyed on Sunday by militants.
"Yes, the repair work is being done under the radar," he said in reference to the aerial coverage by the military.
Meanwhile, the invasion of Ijaw communities,  which started about 1.52a.m., on Saturday, with the take-over of Oporoza, the traditional headquarters of the kingdom and Kurutie, also known as "Little London," the country home of ex-militant leader, Government Ekpemupolo, alias Tompolo, Okerenkoko, Kokodigbane and Benikrukru, yesterday, has caused food crisis in Gbaramatu clan.
Residents, who fled Oporoza, three days ago to the neighbouring Azama community, are famished, as they had not eaten for the period, while soldiers were reportedly not allowing them to return to the community to look for food and pick their clothes.
The traditional ruler of Gbaramatu kingdom, HRM Williams Ogboba, Oboro Gbaraun II, narrated the ordeal of the people when the Special Adviser to the President on Presidential Amnesty Programme, PAP, Brigadier-General Paul Boroh (retd), visited him at his palace in Oporoza, Delta State, on Sunday.
He said he was under house arrest and had not taken his bath since soldiers invaded his kingdom, while his subjects in Oporoza had all fled.
Commander, NNS Delta, Commodore Raimi Mohammed, confirmed, yesterday, that the security agencies were now working in synergy to rout the Avengers.
Surveillance
He said:  "We (Navy) use helicopter. If you spot it, you will clearly identify it as belonging to us. You see Navy written on it.  The jet fighters and surveillance craft were deployed by Air Force to watch over the high risk areas against activities of the oil assets vandals and anyone else involved in criminality in the area.
"There is now strengthened synergy among the security agencies to stop this vandalism.  The synergy is there. I will advise those involved to steer clear and employ peaceful ways of agitating and engaging their minds."
The fighter jets and surveillance aircraft were also seen flying around communities in Gbaramatu Kingdom and Ogulagha area in Burutu Local Government Area of Delta State about 10a.m.
Ijaw leader, Chief Godspower Gbenekama, and Public Relations Officer of Oporoza Youth Executive, Paul Kirifade, confirmed the movement of the jet fighters and aircraft in the communities.
It was learned that the fighter jets and surveillance aircraft were deployed to enable the armed forces locate the militants, believed to be running helter-skelter and  hiding in the mangrove swamps after the occupation of Oporoza  and fly down on Kurutie and other communities, yesterday.
Our source said soldiers stormed Kurutie in six gunboats at 4.30a.m., while the people were still asleep.
A 70-year-old man, identified as Mr. Dogood Ikekama, was allegedly molested and forced by the soldiers to take them round some houses in the community.
Meanwhile,  President Muhammadu Buhari has been asked to focus more on intelligence gathering and collaboration with host communities in identifying the location of  Niger Delta Avengers.
Chairman of Grassroots Initiative for Peace and Social Orientation and one of the facilitators of the amnesty programme, Mr. Richard Akinaka, who condemned the renewed attacks as not representing the intention and interest of the Niger Delta, blamed it on protection of individual business interests of some unscrupulous people from the region.
To avoid collateral damage and hurting innocent villagers whose lives, he said, had been battered by neglect and lack of development, Akinaka said soldiers should desist from mass arrest but focus on identifying where the Avengers were located and take them out.
He said:  "What is happening in the region does not reflect the common interest of the people of the Niger Delta. It is orchestrated by a few disgruntled people for their selfish interests. We just finished six years of a Presidency headed by one of us, former President Goodluck Jonathan, why didn't the Avengers carry out their agitation during his regime?
''We produced a President, who did nothing in six years to better the lot of his people, not even the road to Otuoke was touched under him while the East-West Road was left undone; so what justification do they have to protest now?"
Vanguard gathered that Tompolo's father had since fled the community, following the hunt for his son but one of his wives, who was in town managed to run into the bush with other villagers before the soldiers reached the house.
She wept uncontrollably in her location as soldiers rummaged the house, but the soldiers, who also broke into and ransacked other homes in the town departed at about 6a.m.
The soldiers marched into Okerenkoko, Kokodiagbene and Benikrukru community when they left Kurutie.
According to the chairman of Kokodiagbene community,  Sheriff Mulade: "In the wee hours of yesterday, the Joint Military Task Force, codenamed Operations Pulo Shield, invaded more Ijaw communities in search of vandals and militants bombing oil and gas facilities in Delta state.
"The communities include Benikrukru, Kokodiagbene, Kurutie and Okerenkoko, all in Warri South West Council. According to the JTF, the operations, named Cordon and Search, was aimed at unmasking the militants and vandals, who are perpetrating the heinous crimes, requesting the communities to produce them," he said.
Oil production plummets to 1.2 mbpd
Nigeria's oil production has continued to plummet as it, yesterday, stood at 1.2 million barrels per day, against the 1.4 million barrels recorded last week.
Group General Manager, Public Affairs, Nigeria National Petroleum Corporation, NNPC, Garbadeen Mohammed, said:  "Our production is not less than, but about 1.2 million barrels per day."
The decline has been attributed to increased vandalism of crude oil pipelines by vandals, as well as increasing blow up of international oil companies' platforms in the last two weeks.
Onokpasa decries seizure of pots of soup by soldiers
All Progressives Congress, APC, chieftain in Delta State, Mr. Jesutega Onokpasa,  criticized the confiscation of household appliances and even pots of soup by invading soldiers in Oporoza, Gbaramatu Kingdom, Warri South-West council, saying such act would only present the military as unruly and unethical.
Calling on the Niger Delta Avengers to have a rethink and embrace dialogue,  he said:  "Everyone in Gbaramatu cannot be an Avenger and we cannot be talking of negotiation and at the same time invading Oporoza.
''What is required is intelligence, not brute force. These vandals could be operating from anywhere. Would they bomb a pipeline and then remain in the area waiting for the military to come after them?
"Stopping further destruction of our oil and gas infrastructure is of utmost priority, invading communities and going so far as confiscating household appliances and even pots of soup, will only present the military as undisciplined, untidy and unprofessional."
Vanguard gathered that the greatest threat to the lives of residents, particularly Oporoza villagers, who fled to neighbouring Azama community since Saturday, is hunger.
Chief Gbenekama and Oporoza youths spokesperson, Kirifade, said the helpless villagers had not eaten for three days, as there was no food in Azama community, where they escaped to.
Also, National President of  Ijaw Peoples Development Initiative, IPDI, Mr  Austin Ozobo, who confirmed that hunger had hit the displaced persons, said: "There is hunger everywhere as there is no food for the people to eat. Food supply to the kingdom has been cut off by the military, which is not allowing boats to come in from Warri and other areas to bring food to the people."
Kirifade added: "It is sad that soldiers are not even allowing the trapped villagers to get canoes to go to their homes in Oporoza to look for food and pick up clothes. Some of them have not taken their bath since last Saturday.
"We are not Niger Delta Avengers, why should government classify every Gbaramatu man as a Niger Delta Avenger,  they should withdraw the soldiers because it is obvious that their aim is to commit genocide. Though, we thank God that in their indiscriminate shooting, nobody has been killed."
I'm under house
arrest- Monarch
Pere of Gbaramatu Kingdom, HRM Oboro Gbaraun II (Aketekpe) Agadagba, who raised the  alarm when Brigadier-General Boroh (retd) visited his palace, said: "I am in pains, deep pains, this is the third time the military has invaded the community. They came with large number of soldiers, harassing and beating up women, there are kids missing now."