By Samuel Oyadongha
Yenagoa—The rescued 14-year-old Ese Oruru gave birth to a baby girl in the early hours of yesterday in Yenagoa, Bayelsa State. Ese was allegedly abducted in Bayelsa State last August and taken to Kano State by one Yunusa Dahiru, where she converted to lslam and married without her parents' consent.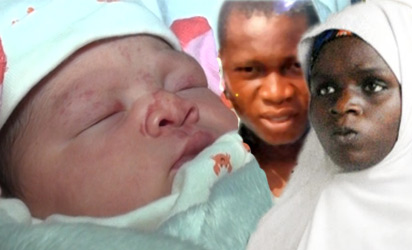 Since the minor returned to Yenagoa in March, she had been in custody at the Police Officers' mess in Yenagoa. Visitors, including her former schoolmates and teachers, were not allowed to see Ese, except her parents, siblings and the medical team taking care of her.
The former Junior Secondary School III student was said to have gone into labour yesterday morning and delivered of a baby girl, described as 'Divine' at the Government House Clinic, by a medical team led by Dr. James Omietimi and Monica Olamide.
The baby girl, weighing 3kg and her mother (Ese) an indigene of Uhweru, Ughelli North Local Government Area of Delta State, are in stable condition. Vanguard gathered that the wife of the state governor, Dr. Rachael Dickson, was the first person to visit Ese and her baby at the clinic, and was said to have expressed gratitude to the medical team for the safe delivery.
Ese is expected to return to school after weaning her baby. Mrs Dickson assured that the state government would take care of Ese and ensure her early return to school. Mrs Dickson said: "She is a precious and divine baby. I am happy as a mother for her safe delivery. Afterward, she will return to school."
Also, Mr. Charles Oruru, father of Ese, thanked the state government and other well-meaning Nigerians for their support. Vanguard had reported penultimate Tuesday, that Ese was in her third trimester and close to delivery. Described as a brilliant student whose ambition is to become a nurse, the state government, it was learned, had registered Ese for the forthcoming Junior Secondary School examination.