By Henry Umoru
FORMER  Spokes-person to the ex- President Goodluck Jonathan's Campaign Organisation, Chief Femi Fani- Kayode has cried out that officials of the Economic and Financial Crimes Commission, EFCC have taken over the gate of his Abuja residence. Fani- Kayode who noted that he has been summoned by the EFCC to  appear before it on Monday, and he has agreed to honour the invitation said the anti graft agency should leave his gate till he appears on Monday.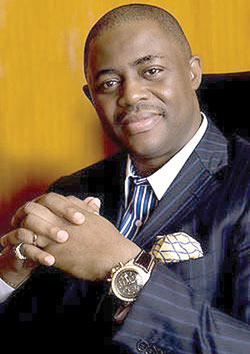 In a text message to Vanguard, Fani- Kayode said, "Today the EFCC invited me to come their office on Monday. I have their letter. I agreed to be there. Now they have  surrounded my house. "The letter of invitation was served this morning and it was dated 6th May. They said I should report on the 9th.
"Can someone please tell me why they are at my gate? They can't even wait because they want to detain me so badly and keep me away for the weekend. "I never refused their invitation. Why all this? I leave them to God."
Meanwhile, a statement issued earlier and signed by the Media Adviser to Chief Fani- Kayode, Jude Ndukwe  yesterday read, "The EFCC wrote a letter of invitation to my principal Chief Femi Fani-Kayode this morning asking that he should report to their Abuja office on the morning of May 9th for a discussion. The letter was dated 6th May 2016 and it was signed by one Mr. Mohammed Umar Abba on behalf of the Acting Chairman, Mr. Ibrahim Magu.
"This is the first and only letter of invitation that Chief Fani-Kayode has received from the EFCC and it puts a lie to the shameful allegation that was being peddled around that he had been served with an earlier invitation which he had shunned and that he was running and hiding from the Commission
"The letter of invitation was delivered to his Abuja home and he has responded promptly through his lawyers by assuring the EFCC that he would make himself available on Monday morning to assist in their investigations"-" It will be recalled that Chief Fani- Kayode had on Thursday said that he was not hiding from the EFCC as he was prepared to honour any invitation, any time from the anti- graft agency.
Chief Femi Fani- Kayode had in his statement described the report accusing him of hiding from the EFCC as totally absurd adding that the EFCC never wrote him or called him on phone to come and explain his role in the Presidential Campaign funds of the Peoples Democratic Party, PDP during the 2015 presidential elections.
According to him, others who were alleged to be involved in the campaign funds were invited in a civilised way, treated in a humane and decent manner, even as he wondered why he should be treated differently, criminalised in the newspapers and not even afforded common courtesy of a formal invitation by the EFCC adding that he was awaiting a formal letter from the anti- graft agency or its call.
In the Thursday  statement titled, "My reaction to the allegation that I have gone underground and that I am hiding from the EFCC"  the former Aviation Minister had  said, "I have just read some absurd media reports which have quoted their sources in the EFCC as saying that I had gone underground and that I was hiding from them. This is false. I have not been invited by the EFCC by letter and neither have they phoned me or attempted to reach me in any other way. I have been in my Abuja home for the last few weeks and I am not hiding from anyone.
"I am not a coward and this attempt to further demonise and humiliate me by the EFCC will fail. If they have any questions for me why don't they just write to me or call me, give me a date and I will be in their office. I have made my position clear on the issue of the Presidential campaign funds, I have written an essay about it in my various columns about two weeks ago and I have been waiting for the EFCC to reach me ever since then.
They have invited others but they have not invited me. I do not believe that I have done anything wrong and this latest attempt to criminalise me and make me look like a fugitive from justice will fail. "Others that were invited to the EFCC over this same campaign funds issue were sent letters of invitation and were reached. I appear to be the exception and now these hideous lies are being fed to the newspapers to make it look as if I am in hiding or that I am running from them just to sensationalise the whole issue.
"This is also to justify what the EFCC wish to do which is to arrest me in public, humiliate me or to storm my home and  lock me up indefinitely. There is no need for all that drama and if it happens that way the Nigerian people will know why. I have no fear of the EFCC, I will respond to their invitation any day and any time they send it to me and I will help them to clarify whatever issues they wish to raise in any way that I can.
"Others were invited in a civilised way and were treated in a humane and decent manner. I really do wonder why I should be treated differently, criminalised in the newspapers in this way and not even afforded the common courtesy of a formal invitation by them.