By Chidi Nkwopara & Anayo Okoli
The Owerri Zonal Office of the Department of Petroleum Resources, DPR, has commenced serious investigations to unravel how 50,000 litres of premium motor spirit was diverted to De Amity filling station, Bende Road, Umuahia, Abia State.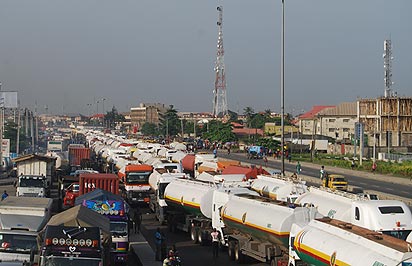 Vanguard investigations revealed that the Forte Oil branded tanker with registration number, Bauchi, DBM 37 XA,  was loaded at NIPCO Plc Dockyard, Lagos, on April 27, 2016.
It was also gathered that "the tanker was billed to discharge its manifested content to Alagbede Nigeria Ltd., Old Motor Park, Gengeri, Jos, but ended in Umuahia.
Vanguard equally gathered that the Abia State Command of the Department of State Security, DSS, initially intercepted the truck and when the truck driver could not expressly explain his mission in Umuahia, the DSS forced them to empty the entire content in the station and promptly sent the situation report to DPR management.
When the high powered DPR team, led by the Zonal Controller, Ogbuefi Morrison Nwokedi, arrived the scene of the alleged crime, the owner of the consignment, Mr.  Ikedinachi Moses, a retired tanker driver, claimed he rented the outlet from the rightful owner.
Explaining how he came by the fuel, Ikedinachi said: "I gave one Kalu money to buy fuel for me. I don't know where he bought the fuel. The Kalu also owns a station on the express road.
At the end of the day, I heard that the oil belonged to Forte. When I started calling the Kalu later, he was no longer picking my calls."
On the sealing, the DPR Zonal Controller said: "The station remains sealed. The product source is now known. Product diversion is a serious crime. Penalty is N200 per litre and payable to the FG. This is a team work between DPR and other relevant stakeholders."