By Emman Ovuakporie & Johnbosco Agbakwuru
ABUJA — THE Minister of Finance, Kemi Adeosun, yesterday, said that due to the paucity of funds, agencies should not expect to get completely what was appropriated in the 2016 budget, as the government would only release funds based on necessity.
The minister also warned heads of ministries, departments and agencies, MDA, in the habit of lobbying for the release of funds to their various sectors to stay away from her office as there was no room for such lobby.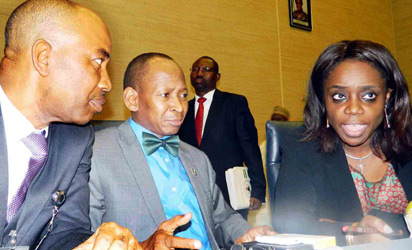 The minister, who stated this when she appeared on the floor of the House of Representatives at the on-going sectoral debates, said the interest of government was to reduce cost of living and create  employments to for 500,000 Nigerians.
Adeosun also said government was working hard to bring down the cost of lending in the agricultural sector through the Central Bank of Nigeria, adding that efforts had been made to clear the debt of N60 billion owed by the previous administration to fertiliser suppliers which made them to stop making it available to farmers.
She disclosed that government had reduced the counterpart funding on Universal Basic Education Commission, UBEC, to 10 per cent against the previous 50 per cent, so  states would be able to access the funding.
The Finance Minister said there was no way government could fund every single project, adding that its priority was on capital release as it discovered that in the past, every agency got a percentage of what was available, which did not necessarily translate to delivery of a project.
She said:  "So what we are now doing is project first. Tell us what you are going to do with the money, give us your milestones. I can't promise you that every single agency will receive every single Naira in the budget, that will be untrue and that will be a misleading impression.
"However, what I will assure is that there will be no favouritism, there will be no need for anybody to come and lobby in our office for the release of funds. Funds will be released first on priority of projects, MDAs must make request for the capital and we must measure how the capital is spent."
On the issue of increment of the minimum wage, she was not forthcoming but  replied: "The issue is not actually about minimum wage, the issue is about cost of living because even if you increase the minimum wage to N100, 000 and the cost of living is N120,000 then you have done nothing.
"What we have to address is the cost of living and this government addresses cost of living because it is investing in the things that make cost of living very high for the people such as power cost, transport cost, people spending hours on bad roads, it is being addressed, that is a cost."
On improving agriculture for farmers, especially on getting lower interest funds for farmers,the minister said:  "The current rate being charged by commercial banks are not viable for agriculture.
"Already, the Central Bank of Nigeria is doing some interventions around bringing down the cost of lending for agriculture and equally in part of commitment to the capitalisation of the Development Bank of Nigeria.
''We will be doing intervention funding as single digit to bring down the cost of funding for agriculture.
"We inherited debt of N60 billion due to supplies of fertilisers which were not paid by previous administration, the President has directed that we negotiate with them to see how we can pay to release money to them so that they can supply for this year and that has been done.
"It was a very huge debt that we inherited at a very wrong time for us and we are trying to resolve it."
"People having to pay for young people in their families who should be working, graduates who should be working and collecting pocket money from their parents, that is a cost of living and this government is addressing it.
''We will employ 500,000 unemployed graduates to go into teaching, they will receive a stipend, they will relieve the families of those people, they will give those people a chance to develop their skills."