By Boluwaji Obahopo
LOKOJA—Governor Yahaya Bello of Kogi State has approached the Revenue Mobilisation, Allocation and Fiscal Commission, RMAFC, for assistance to enable the state meet its rising financial challenges.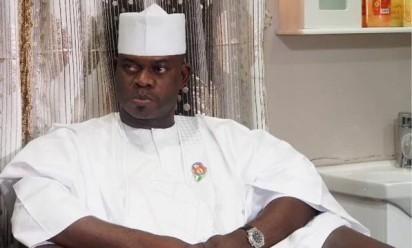 The governor, who made the plea during a visit to the commission where he served close to 15 years, referred to the visit as a "return to his primary constituency", contending that it had become imperative for the commission to help President Muhammadu Buhari achieve his change agenda.
Bello also said he was prepared to take Kogi State to higher ground through effective delivery of democracy dividends to the people of the state.
He highlighted the needs of the state to include the necessity to bridge the huge infrastructural deficit, security challenges among others, promising to be a good Ambassador of the commission.
The governor noted that he had carried out staff audit in the state to make its payrolls credible and assured the civil servants in the state of the readiness of his administration to protect every legitimate job.
Responding, Chairman of the Commission, Shetima Abagana, thanked the Governor for his visit and referred to the Governor as a hardworking man of responsibility, who served the commission meritoriously.
Abagana who assured the governor of the readiness of the commission to assist the state achieve her dreams, said the commission would assist the state access whatever was due to it from the commission.