By Levinus Nwabughiogu
…says I pitied Lai Mohammed
ABUJA—One year after he became the President of Nigeria, Muhammadu Buhari has said he was still shocked at how former President Goodluck Jonathan conceded defeat in the March 28, 2015, presidential elections and handed over the reins of power to him. The President said it was such an incredible development that a man who had occupied various political offices as a deputy governor, governor, vice president and president could easily relinquish power to the opposition party, adding that Jonathan had by this gesture, distinguished himself as generous and gracious man.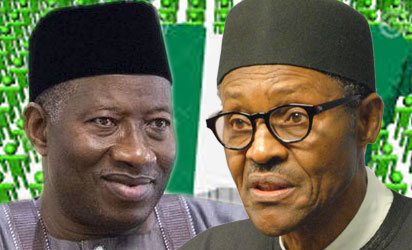 Buhari, who gave glowing tribute to his predecessor while hosting State House Correspondents to a luncheon at the new banquet hall of the Presidential Villa yesterday, was offering retrospective highlights of his early days in office after his inauguration. He said that the last one year had been "a tumultuous year for everyone in the villa", revealing that it was the congratulatory call from Jonathan made that prompted him to visit the Villa in the company of former Head of State, Abdusalami Abubakar, for appreciation.
He said: "I will talk about my experience here in Aso Villa. I underrated the influence of the PDP for 16 years, watching from outside as 8 consecutive governments. The experience of the staff, their commitment and zeal is different from what it is now. 16 years of development in the life of a developing nation is a long time. "When we came, there were 42 ministries. We cut it to 24. This is where I pay my respect to former President Goodluck Jonathan. This is actually a privileged information for you. He called me at a quarter past five in the evening. He said good evening Your Excellency Sir and I said good evening.
''He said I have called to congratulate you that I have conceded defeat. Of course, there was dead silence on my end because I did not expect it. I was shocked. I did not expect it because after 16 years, the man was a deputy governor, governor, Vice President and was President for six years. "For him to have conceded defeat even before the result was announced by INEC, I think it was quite generous and gracious of him.
"Abdulsalam recognized the generosity of Jonathan to concede defeat and said we should go and thank him immediately and that was the first time I came here." The President stated that reducing the Ministries to 24 from 42 was the best decision to take in the face of the circumstances his government found himself. "We had to do it on our own we found out that government could not continue with 42 ministers and the paraphernalia of office. So, we cut it down to 24. We had to cut down half the number of permanent secretaries and then do some cross postings", he said.
On what civil servants did to 2016 Budget
President Buhari, however, regretted that some civil servants within the budgetary system "padded" his first budget for the country. He said it was a "nasty experience" for him and his Ministers, who spent sleepless nights putting the document together. He said: "For somebody like me, for the first time I heard what is called padding. ''I think we will recover by the fourth quarter of the year. There were very serious development which I never knew about.
"So, really it was a nasty experience for us. It was also a nasty experience for some of the ministers who were never in government. For them to sit down day and night to work. I saw them. Some of them literary lost weight because they were sleeping less and eating less. Working on every kobo to be spent.
"Because we became a mono-economy of oil-rich Nigeria, everybody relied on oil and forgot about solid minerals, agriculture, making and exploring things. We recently just found out that we are poor because we don't have anything to fall back on. This is the condition we found ourselves and this change mantra had to go through hell up till yesterday", he said.
I pitied Lai Mohammed
The President said he pitied the Minister of Information, Mr. Lai Mohammed who took pains in explaining the actions and inactions of government to the people. "For you to talk to whoever came to visit us throughout that year, I wonder how each of your diaries would be, because people were expecting this change mantra in their own way. "How do you define change? Luckily our party identified three major items, security, economy and corruption.  One of the man I pitied is Lai Mohammed. Everyday, he is on TV explaining our performance or lack of it.
Our shock over $2.1 billion arms deal
One shocking discovery of the government, according to the president, was the "sharing" of the $2.1 billion meant for the purchase of arms for the military to fight insurgency in the north east. "People were trusted and the most recent one which we haven't recovered from is the $2.1billion dollars which was given by the government then, to the military to   buy hardware to fight the insurgency which had taken over part of the country and they just sat just the way you are sitting now and shared the money into their own account. They didn't even bother. So we are still trying to get the cooperation of the international community and so on and we have to do it with a lot of respect to the judiciary.
"We can't go out and talk too much. We have to allow the judiciary to do their work. We give them the facts,the name, country, bank account. If you talk too much, technicalities will come in, then, we will realize less than what we want to realize. "So please when next you want to interrogate out visitors try and do some research so that when they are coming next time, they will do research themselves", he said.