Mr. Pius Okigbo, Jnr. is the President of the Institute of Software Practitioners of Nigeria (ISPON). In this interview with Emeka Aginam, he said that pricing is among the biggest challenges facing local software companies in Nigeria.
While insisting that Nigeria must use the best resources available to develop solutions for the local market, he said that we cannot afford to pay for services from abroad any longer when we can get it locally.
Excerpts:
Addressing software local content
Well, there are burning issues. The  Institute of Software Practitioners of Nigeria, ISPON has tried as possible as possible to bring together some key policy and decision makers and other key stakeholders, whom we feel can help to influence major policy decisions.
We invite them to speak to our members regarding the burning issue of the day! One such forum that we use to dialogue some of these issues is the annual ISPON President's Dinner and this year's edition centred around local content. I am a very strong believer in and advocate for local content and the reason is very simple: If you want me to hire, then, there must be a way in the scheme of things to enable me hire the right quality of talent, who have gone to good schools, worked very hard, have with good grades and that I don't have to re-educate for them to deliver innovative solutions to my clients.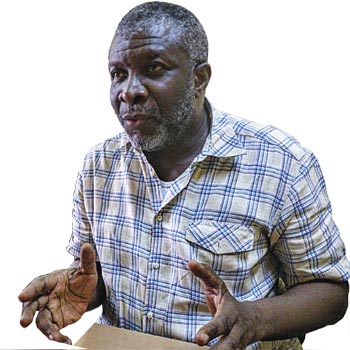 But if I have to be condemned by a mindset that anything Nigerians do is inferior, then that means I will never have an opportunity to hire, create, use the skilled talent to develop solutions and deliver to the clients, especially the customers here in Nigeria. I am not even talking about exporting our solutions and expertise.
Meanwhile, given the state of the economy presently we cannot afford to pay for services from abroad any longer, not as we used to do in the past. So, what we have to do is to find a way to use the best of our resources in Nigeria to develop solutions for Nigerians.
Software policy
The policy is still in place but it has not been addressed. What we need to do now is to wake up the community and when I say the community, I mean the larger ecosystem so that we can begin to address the local content policy.
Encouraging development of locally-relevant solutions for Nigeria
We are indeed collaborating with other stakeholders in pushing local software that is tailored towards solving Nigeria's peculiar problem.
Why should we be calling in Indian companies? If this ugly trend is not discouraged, the time will come when Indian companies will dominate our markets, repatriate their proceeds abroad and local software companies that should be encouraged and protected will be out of business.
Market potential of Nigerian software industry
The potential is very high. Currently, there are over twenty to twenty-five thousand MDAs across all three tiers of government that require local software solutions in just about everything.  The challenge we have is that our software firms came into this space late in the game but even then, we have developed some excellent and brilliant solutions that some foreign vendors/OEMs cannot match. Meanwhile, you see a local software and you want to pay for it for just N1 million. How can you possibly build a software business on the sale of software for N1 million or even N5 million? So, pricing is another problem facing local software companies. They are lowly priced because it is a "Nigerian solution" and yet, you want me hire Nigerians and pay them well. What goes around comes around!
If we don't begin to appreciate that you can call a Nigerian software company and give it, for example, a N70 million software development contract and tell me that over three years I should improve the system from, say, its current 80 per cent requirement level to 100 per cent, before you know it, I can become a software house employing 3,000 developers. In Indian, it is common for an organisation to hire 3,000 developers and more.