Chelsea midfielder Cesc Fabregas claims Jose Mourinho lost his job at Stamford Bridge because he trusted the players too much.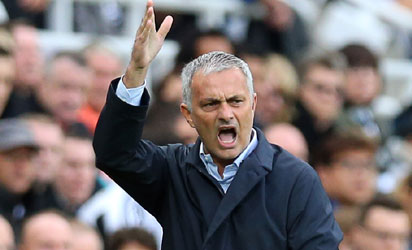 Mourinho was dismissed as Blues boss in December with Chelsea struggling at the wrong end of the Premier League less than a year after being crowned English champions.
At the time, former Arsenal and Barcelona star Fabregas was reported to be one of a group of players who had fallen out with Mourinho over his strict style and he was jeered by fans as a result.
Now Fabregas, who insists he remains on good terms with Mourinho, says he and his Chelsea team-mates were to blame for taking advantage of his trust.
"I have huge respect for him – we still keep in touch right now," Fabregas said on Sky Sports' Monday Night Football.
"The biggest problem was he trusted us too much, gave us more holiday because we were champions and we let him down.
"That was the main reason he had to go – and for that myself and the team feel bad for it."
Fabregas, who spent eight years at Arsenal, also said he wanted surprise leaders Leicester to win the title instead of second placed Tottenham, who are bitter rivals with his old friends at the Emirates Stadium.
Asked, ahead of Tottenham's meeting with Stoke, if he felt there would be another twist in the title race, he said: "Hopefully not, I don't want Spurs to win it to be honest.
"For what they've done through the season I'd love Leicester to win the Premier League."