Bayern Munich are preparing for a tough fight in Wednesday's Champions League semi-final, first-leg, with coach Pep Guardiola braced for a battle royal at Diego Simeone's Atletico Madrid.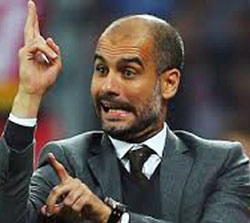 Bayern hold a seven-point lead in Germany's top flight and warmed up for their Madrid mission with a 2-0 win at Hertha Berlin. Guardiola made seven changes to his starting line-up in Berlin as his side produced just six shots on goal in the German capital and he expects a tougher test in Madrid.
"It will be a completely different game," said the Spaniard.
"It's difficult to always play at 100 percent and I understand if the players already had an eye on Wednesday's game against Atletico."