Earl Osaro Onaiwu, popularly known as the 'Solution', is one of the governorship aspirants of the Peoples Democratic Party (PDP) in Edo State. He is currently the Director General of the PDP Governors Forum. In this interview, he expresses his desire to succeed Governor Adams Oshiomhole just as he declares as untrue the claim that only Pastor Osagie Ize-Iyamu can face the All Progressives Congress (APC) in the forthcoming governorship election in the state. Excerpts:
How has it been battling for PDP delegates?
The race has been very interesting. I can see that Edo people are yearning for the 'Solution', looking for an improvement from where Oshiomhole stops. I have gone round all the local governments and I have seen the leaders. I can see overwhelming support because they are looking at somebody they can rely on based on my experience, based on my pedigree and a faithful party man. And  I believe we need a formidable party, a party that is attractive, even to  APC supporters. I have seen a situation whereby most of the party secretariats across the local governments are not well funded.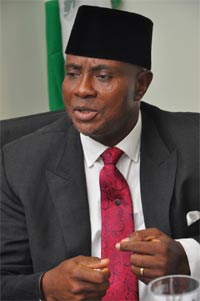 So I have been able to attend to some of their needs. Where there is no electricity supply, I have provided generator for them; where they are no tables, chairs and all that, I have also done that. Because if you are going into election and your party is not robust, your party members are not enthusiastic about it, you will find out that nobody will protect your votes for you. The support I am getting from the party faithful is overwhelming, they have never seen an aspirant calling for reconciliation during campaigns. I know people are aggrieved and you must reconcile them if you want to win elections. Don't wait till after the primary before you start reconciling people. We have been able to appeal to a lot of our supporters who are angry to sheath their sword. I visited  our leaders who were aggrieved because I believe that if we must win election we must be united.
But there is this claim by one of the aspirants in the party, Pastor Ize-Iyamu, that you aspirants of the PDP, apart from himself, have not been criticizing Oshiomhole. How do you react to that?
I heard about it and I watched it on television. First and foremost,  why will I criticize a governor that will leave in six months?  I am waiting for the APC to bring out its governorship candidate so that we can start talking. For somebody like that who is a minus to our party, he does not have the clout to say some of the things he said. He first of all said he is a better candidate than three of us, that is funny.
They destroyed the PDP that we are trying to rebuild, no matter the differences you had with the party, you ganged up against our party and you are proud to say that you formed the Grace Group which you used against a party that put food on your table for eight years? You are proud to say that the leadership of the party de-registered you and that was why you went to join ACN. Why  did you not remain in the ACN that you joined?  Why did you not remain with Oshiomhole? You were there when Oshiomhole insulted Anenih, you were there when Oshiomhole insulted Lucky Igbinedion and others, and you did not say anything. Is it now that you saw something wrong in Oshiomhole? You cannot take us to fight a personal quarrel with Oshiomhole. If you have issues with him, sort it out and leave the party out of it.
You are creating an impression that you are the only one that can fight APC. We are not going to war. People are going to come out and vote, Edo has always been known for peace and not war. No one individual can come out to say he has the exclusive right for violence.  And he also said in his town hall meeting that he was the only one who gave N100,000 to the 192 wards. The party leadership should advise him. I don't believe in campaign of calumny, but we have to put the records straight and, in putting the records straight, he lacks the wherewithal to think he can lead us to victory. If he is popular, he should  have gone to SDP to test his popularity.
Running other aspirants down is totally unacceptable. We started this campaign to say that whoever wins, we will support the person, but he has changed the rules of the game and we are going to take him on. I have gone round the wards, I have never said anything negative about any of the aspirants. You left PDP, people remained in PDP; if everybody had left PDP, which party would he have come to? If he has tactics, let him  take it to SDP.
It is just a propaganda they are carrying about that he is the only one that can face APC. Come to think of it, did he win election for Oshiomhole? I was DG, Governors Forum when Oshiomhole won the election and I know a lot. I know what I have contributed to this party, I know the risk I have taken for PDP. You cannot have people who are disloyal and say they should give him PDP ticket.
How optimistic are you that the leadership of your party will conduct a free and fair primary election?
Consensus candidacy is no longer on the cards. A few people believed we should adopt a candidate but we said no, we are going to go for a transparent primary. If we don't do that, PDP will have a big problem in Edo. Go and defeat me in a transparent primary, let the delegates go and speak their minds. When you do that and I am defeated, I will celebrate whoever emerges. But when you manipulate,  there will be problem. I have told our people that we must be careful because if Obaseki emerges as APC candidate, we must field a candidate that is marketable. Obaseki is a new kid on the block; so you need a man with pedigree to face him.
We need to breath a fresh air in PDP, we don't want a candidate in PDP that everybody in the opposition will attack. People carrying the rumour that one person has been anointed that is not true. If there is anybody that will be anointed, it is me. If there is any body that can win election for PDP, I am the one because I come from a sound background. I am the DG, PDP Governors Forum and I am very optimistic that the PDP governors will back me. I have been in PDP since 1999. I have never defected. I am working hard. I am in the field because I don't want anybody to feel that the PDP governors want to impose me, no. I am touching the grassroots, I am everywhere and I will continue to work until the day of the primary.