Dear Bunmi,
I'm in my early teens and my parents are divorced. Last year, dad got a new girlfriend who has two children and they can see their father whenever they want. But my dad's girlfriend won't let him anywhere near my mum and me.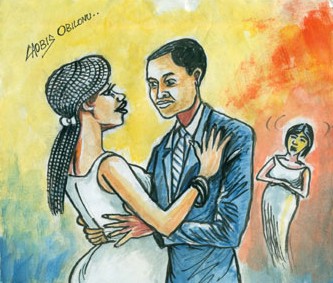 She's always finishing with him for the flimsiest of reasons, even when he called to give me a birthday present.
Whenever she dumps him, my dad phones mum and talks for hours, and my poor mum ends up crying. They are currently back together and my dad had changed his phone number, so I can't phone him any more.
When he visited last Christmas, we were together for only a few hours and he was on the phone to his girlfriend most of the time.
He hasn't phoned since. A few days ago, I was out with my mum when I saw him with his girlfriend, and he just looked at me. I love my dad but his girlfriend won't allow him in my life. What should I do?
Faith, by e-mail.
Dear Faith,
I'm sure your dad loves you too but he's currently too wrapped up in his own problems with his girlfriend he doesn't realise how sad he's making you. Write him a letter telling him how much you miss him, and hopefully it will prick his conscience so much he'll get in touch. If this fails, then you must get some of your older relatives to have a word with him, after all you're his flesh and blood. Grown-ups can be very selfish when it comes to relationships. Only know that, whatever happens, none of this is your fault.