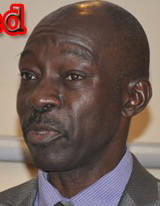 Samuel Ukura
By Emma Ujah
The Revenue Mobilization Allocation and Fiscal Commission, RMAFC, yesterday, disagreed with the Auditor-General of the Federation, Mr. Samuel Ukura, over the alleged N4.9 trillion which he claimed the Nigerian National Petroleum Corporation, NNPC, failed to remit to the Federation Account.
The commission said through its spokesman, Mr. Ibrahim Mohammed, in Abuja, that NNPC was owing only N1.9 trillion from the 2014 operations, going by its records.
The statement added that while the said report claimed that NNPC owed N3.2 trillion to the Federation Account in 2014 from domestic crude sale, the commission's records revealed that the corporation owed the Federation Account N1.99 trillion only, in 2014.
"Therefore, the figure quoted by the Auditor-General of the Federation must have included revenues from other sources," it said.
Concerning alleged payment of US$235 million realised from the sale of natural gas into an undisclosed Escrow Accounts by NNPC, the commission explained that the corporation, on behalf of NLNG, had entered into agreements with three international oil companies, including Nigeria Agip Oil Company, NAOC, Shell Petroleum Development Company of Nigeria, SPDC, Total E&P Nigeria Limited, TEPNG, under a Modified Carry Agreement, MCA, proceeds from which funds are deposited in Escrow Accounts for funding the various gas projects under the LNNG.
RMAFC said it had been working with NNPC to reconcile the figures, following a tripartite meeting held with NNPC and the Ministry of Finance.