By Gabriel Enogholase
Yenagoa—THE Nigerian Navy has warned those engaged in criminal activities in the Niger Delta to relocate or get crushed.
The warning is coming on the heels of the acquisition of 15 gunboats to dominate the waterways of the region.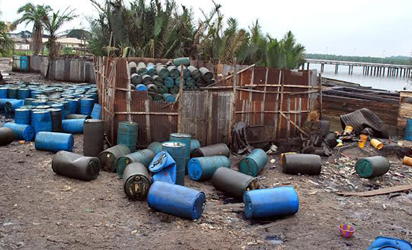 Speaking at the end of a three-day operation code named Exercise Projector, the Flag Officer Commanding, Central Naval Command, Rear Admiral Apochi Suleiman, reiterated the readiness of the Navy to fish out crude oil thieves, pipeline vandals, sea robbers, kidnappers and other criminals operating in the region for prosecution.
Suleiman noted with sadness that economic crimes such as pipeline vandalism, crude oil theft and sea piracy had not only led to significant loss in revenue accruable to the Federal Government, but led to damage of strategic oil installations.
On the just concluded exercise, the FOC said it was a choke point strategy in accordance with the directives of the Chief of Naval Chief, Vice Admiral Ibok Ibas to degrade miscreants and dislodge them from their hideouts.
Suleiman added that the operation would equally reduce criminal activities in the country.