Siasia returns to U-23
By Tony Ubani who was in Egypt
President of the Nigeria Football Federation, NFF, Melvin Amaju Pinnick has threatened to quit his position if Nigeria does not hire a foreign coach for the Super Eagles.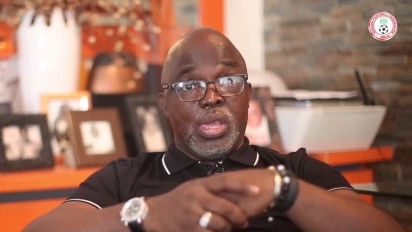 A distraught Pinnick who watched the Eagles fail again to qualify for the 2017 African Cup of Nations coming up in Gabon promised to hire a foreign manager for the Eagles in two weeks time.
"There is nothing to worry about the payment of salary for the foreign manager. His wages is going to be taken care of by the private sector. We've concluded that and it will not cost Government anything".
Pinnick came under severe attacks from Nigerians the first time he muted the idea of a foreign coach after former Manager, Sunday Oliseh quit. The attack from prominent Nigerians and indigenous coaches was much that many condemned Pinnick for trying to distract interim coach Samson Siasia who needed encouragement as he prepared for the first match against the Pharaohs of Egypt.
But after watching the Eagles succumb 1-0 to Egypt, a defeat that practically knocked off Nigeria from the 2017 Africa Cup of Nations even with a match to go, Pinnick said that there was no going back on the employment of foreign manager for the Eagles.
"I feel saddened that we could not get a favourable result from here. But, we remain proud of this team. From what we have seen in their display, there is hope for Nigerian football. We're going to get a foreign manager for the team. And we are going to ensure that Nigeria qualify for the World Cup and do exceedingly well, too. We'll make them utilize all FIFA windows to play quality friendly matches.
But, I must also commend the services of coach Samson Siasia who has shown his capacity in putting up a team we are all proud of. Siasia will go back to his U-23 team and prepare a team that will win Olympic gold for Nigeria. We'll give him all the necessary tools he needs to achieve that. I commend him", Pinnick said as the Nigerian delegation headed to the Alexandria airport for the return journey to Nigeria.
However, while addressing journalists in Abuja, the NFF President described as unfair calls for him to quit after Nigeria failed to qualify for next year's Nations Cup in Gabon.
"It's very unfair for people to ask me to resign. I was elected by the Congress and I'll see off my mandate. Our Board has won Africa Women's Championship in Namibia, FIFA U-17 and we've qualified for almost all major competitions during this period."
Pinnick also tendered an unreserved apology to Nigerians for their failure to qualify but insisted that there was hope on the team and promised a World Cup ticket as well as making Nigerians to walk with their noses in front at the World Cup and the Rio Olympics.