Participants at a summit to discuss the threat of growing religious extremism in Nigeria on Wednesday, in Abuja, advocated for the outlawing of travel to Iran especially for the purpose of studies, stating that the country plays a key role in radicalizing youths by teaching them extreme ideologies.
The summit on the Emerging Extremism in a Post Boko Haram Nigeria with the theme "Building a Consensus against Extremism as a Catalyst for National Integration" was organised by the Coalition of Civil Society Organizations on Human Rights and Interfaith Religious Organizations for Peace.
Resource persons and participants stressed that there was need for religious tolerance in Nigeria, however, noting that radicalization by way of people forming their own communities and laws within the Nigeria state should not be allowed.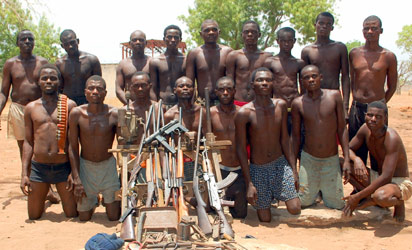 They explained that formation of states within the Nigeria State like special places of worship for some selected persons should be outlawed by legislature at federal, states and local government levels.
One of the resource persons, Mr Ayokunle Fagbemi, the Executive Director, Center for Peacebuilding and Socio-Economic Resources Development (CePSERD) explained that the Boko Haram phenomenon and the incidents between the Shiite Sect and the Army were cases of "security breaches" for the country.
Fagbemi identified what he described as "political correctness" as "the major obstacle to overcome in building a consensus against extremism".
He further noted that decision makers in Nigeria must constantly be aware that "conflict and violence entrepreneurs are taking advantage" of the countries security breaches and that a management system must be in place to address these breaches.
The CePSERD boss pointed that it was necessary to interrogate claims made by those that try to parade religion and that the Shiite issue must be viewed from the right perspective to understand why they created another community.
"Thankfully, the Chief of Army Staff was of the same faith as the Shiites, the trouble would have been difficult. No group on its own would accept (admit) extremism on its own," he said.
In his keynote address, Dr. Udenta O. Udenta, a Former Director Institute of Peace and Conflict Resolution, Abuja, recommended that youths must be repositioned in the post industrial society where technology and new media have the potentials of being deployed as tools for radicalization.
Udenta, who explained that this week's terror attack in Belgium was a product of failing to deal with a festering pool of radicalization in Brussels, warned that Nigeria must limit external influences in the orientation of the youths.
He declared that "Boko Haram is the product of failed Western intervention in Libya" where outside interference led to the unexpected and undesirable outcome of that country becoming a failed state.
Meanwhile, a communiqué issued at the end of the summit advocated for concerted efforts towards the de-radicalization of youths that have been exposed to extreme doctrines by the Shiite sect, noting that it is not desirable to have another group replacing Boko Haram when it is completely defeated.
The communiqué read at the end of the summit recommended "That the Federal and state governments must emphasize de-radicalization as a key step towards stopping the spread of extremism and that they should use the relevant security agencies to address groups that indoctrinate youths to become extreme.
"That government must immediately take concrete steps to stop the Islamic Movement of Nigeria (IMN) from metamorphosing into Nigeria's next terror group given the recent activities that pose existential threat to Nigeria.
"That the federal government must reassess with a view to acting on its diplomatic relations with the Islamic Republic of Iran and any other country that supports the spread of extremism on Nigerian soil. For a start, government must immediately outlaw travel to Iran especially for those going there to study since it has now been established that they are easily radicalized with extremist ideology.
"That other states and the federal government should consider having their own versions of laws to regulate religious activities in view of the fact that religious extremists will seek new states to move to when they are contained elsewhere.
"That an expanded summit should hold to further expound on how to ensure religion is never again used to undermine the integrity of the nation.
"That this communiqué should be given wide publicity including being presented to the Presidency, National Assembly and the National Judicial Council that should then use policies, legislation and court pronouncement to limit foreign interference into Nigeria's internal affairs, while pushing for the outlawing of any civilian group that preaches extremism."