Abuja – Popular Nigerian gospel singer, Chris Morgan, has urged Nigerians to embrace love and tolerance, irrespective of religious and tribal differences, to build a strong and peaceful nation.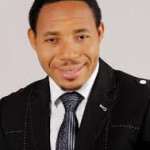 He made the call in an interview with the News Agency of Nigeria (NAN) on Sunday Night on the sidelines of the Easter concert he organised at the Transcorp Hilton Hotel Abuja.
According to him, Nigeria is a blessed nation that will attain greatness if citizens show genuine love, tolerance and sacrifice for one another.
He said that "the reason people fight and kill each other is because they don't love their neighbours as themselves.
"God did not make mistake by creating us to live together as a nation, even in our religious and tribal differences.
"If we truly practice God's kind of love, we would do everything possible to make Nigeria great."
He added that it was in the spirit of Easter that he put up the event tagged "Love and Laughter Concert.
He explained that the message of Easter was a message of love. God's love for mankind that made him to send his son to died for us.
"The essence of the concert is to create that consciousness of love in everyone through songs.
"Many people and relationships are hurting today because there is deficiency of love and tolerance.
"If the family unit is divided, it will affect the nation."
Morgan, therefore, called on Nigerians to be more committed in their contributions and service to fatherland.
He made reference to the Biblical account of king David, who as a teenager made an uncommon sacrifice of confronting Goliath to save Israel from oppression.
He said "David, out of genuine love for his nation, came after a dreaded enemy to save his nation.
"Everyone, especially the youths, should stand up and demonstrate that act of genuine sacrifice for Nigeria to attain greatness."
He also told NAN that that he was already making plans to take the Love and Laughter Concert to other cities across Nigeria.
The gospel artistes and comedians who performed at the event included Solomon Lange, Enenche Enenche.