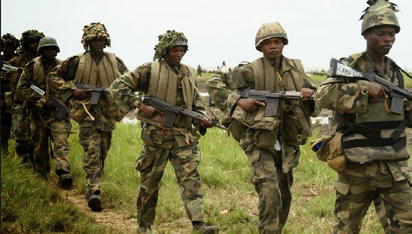 Army
The Chief of Army Staff (COAS), Lt.-Gen. Tukur Buratai, has attributed the successes recorded in the fight against insurgency in Nigeria to President Muhammadu Buhari's political will and resilience of the troops.
He told newsmen in Ibadan yesterday, after a courtesy call on Gov. Abiola Ajimobi of Oyo State that the troops had displayed commendable professionalism in the troubled region of the country.
Buratai, who led other top army officers, was in Ibadan to interact with the soldiers on their challenges in the state.
"The professionalism displayed in the troubled regions of the country by troops and the full support of all Nigerians are part of the secrets that has helped curtail the continuous assault of the dreaded terrorist group, " he said.
Buratai said that the Nigerian Army had employed the same guerrilla approach used by the terrorist group in combating them.
He said that the Nigerian Army had added more capacity and ability with the introduction of motorbike battalion to move quickly to wherever the terrorists are before causing any havoc.
He said: "It is the commitment of the President, government, the leadership of the military, the troops and the support of Nigerians that brought the successes.
"We have intensified efforts to enable the military get to the insurgents before they cause any havoc or even run away from their hideouts.
"To totally wipe out Boko Haram, we require the support of everybody. They live among us and are everywhere. We require very good intelligence to fish them out.
"But the most important thing is to prevent them from having the capacity to launch attacks on innocent individuals and on our troops` locations."
The Army Chief said that long-term planning, surveillance and intelligence gathering was needed to wipe out the remnants of the insurgents, saying the Army is dealing with those who showed up with their weapons.
Responding, Oyo State Deputy-Governor, Chief Moses Adeyemo, who received the COAS, commended the Nigerian Army for its efforts to uphold the nation`s territorial integrity.
He said that the priority of the administration was security of lives and property, on which infrastructural development could thrive.
The deputy governor praised the officers and men of the 2 Mechanised Division, Nigerian Army, Ibadan, for assisting the state government in the maintenance of law and order.
"The purpose of governance is to maintain peace and security after which every other thing will follow in terms of infrastructural development.
"And our government is committed to sustaining the peace in the state," he said, and commended the military for their bravery and sacrifice against insurgency and terrorism.
Adeyemo assured the army chief that the present administration in the state would continue to collaborate with the military and other security agencies to ensure peace reigns in the state.