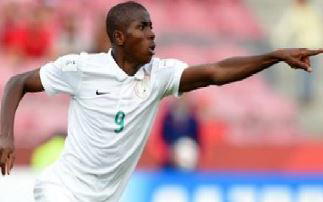 Osimhen
Ex-Super Eagles and VfL Wolfsburg top striker Jonathan Akpoborie   has predicted a bright future for   the German's club latest Nigerian recruit Victor Osimhen, but warned he must a pro both on and off the pitch.
Last month, the Bundesliga side announced an exchange programme of   co-operation   between   Osimhen's   Ultimate Strikers Academy where players will have the opportunity to train with the club's various youth and senior sides pending a formal contract in 2017.
And Akpoborie, who   scored 20 goals in 39 appearances for the Die Wölfe   (The Wolves) between 1999 and 2001, has now said the 2015 FIFA U-17 World Cup hotshot will only be great if he is dedicated and disciplined.
"I don't know how his (Osimhen) behaviour   outside the field   but If he can dedicate himself and imbibe the German mentality, he is going to be a great star," said Akpoborie, who spent over a decade playing   at various levels of German league.
"In Germany, what you do outside the field is as important as what you do on the field. "
He continued: "As a Nigerian, he must be able to give at least five right answers   if he's asked one question on the field; he has to be mentally strong and   be very disciplined to be able to cope with the demands of the game in Germany."