By Anozie Egole
OWERRI—Governor Rochas Okorocha of Imo State has pledged to support the activities of Copyright Society of Nigeria, COSON, in the state.
The governor also called on all persons and organizations who deploy music in their businesses in the state to ensure that they respect the law and obtain appropriate copyright licenses from COSON.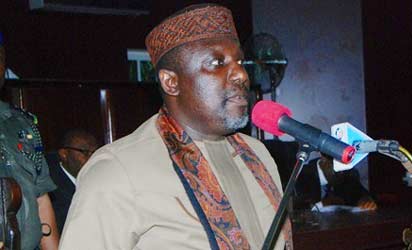 Governor Okorocha stated this at Imo Government House, Owerri, when he met with the leadership of COSON led by the Chairman, Chief Tony Okoroji.
He also urged the Federal Government to set up a power plant in the state as the state has everything necessary for the plant to grow.
The governor said: "Music has left America and London and is back to Nigeria now. So, this is our finest moment to make use of this special product. Probably, oil is giving way to allow the musical talents to come up.
"The drop in oil price is increase in the price of music and I will like us to celebrate it. So we are proud of you. Somehow, as small as the state might be in terms of size, this seems to me to be the pivot of which many activities in Nigeria will rotate.
"Imo state has provided everything for this nation. Many of you may not know that the gas we talk about; the source of power is in Imo State and we are number one in gas in the whole of Africa."