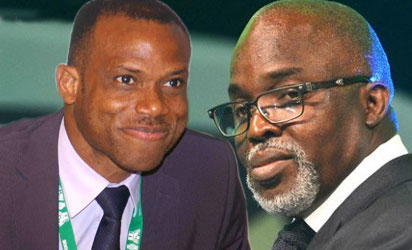 Oliseh and Pinnick
By Tony Ubani
The Nigeria Football Federation, NFF, stung by the sudden resignation of coach Sunday Oliseh have asked their lawyers to study religiously his contract and come up with possible areas he breached the contract that will guide them in dragging him before FIFA and the Court of Arbitration, CAS.
Sports Vanguard gathered that Oliseh collected his backlog of salaries and allowances before throwing in the towel.
Already, officials pointed that payment of his accommodation funds and coaching the Super Eagles from Belgium as areas he breached the contract.
"The Lawyers are going to come up with those breaches but you know that he resigned with immediate effect without giving us the mandatory one month notice.
He coached the Eagles from Belgium and it was explicitly stated in the contract that he must coach the team based in Nigeria.
He already collected money for his accommodation when he never stayed here. It is left for those with Eagle eyes to come up with the breaches", our source said yesterday on our hotline.