Vincent Enyeama and Emmanuel Emenike, have ruled out a return to the Nigeria senior national team, claiming they stand by their earlier decisions.
28-year-old West Ham striker Emenike announced his retirement on October 20, 2015, 11 days after former captain Vincent Enyeama announced his retirement following a rift with the head coach.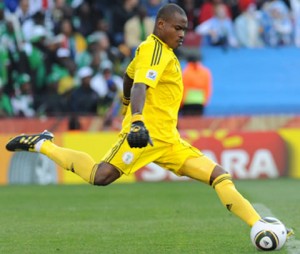 "I don't want to talk about this issue again. I think my earlier decision stands," Enyeama told BrilaFm.
When asked about his possible return to the Super Eagles, the Emenike told Sporting Life that he is not going to reverse his decision of quitting the national team.
"I'm done with the Super Eagles, and I am making it clear again that I am not going back,"
"It's my decision and I am not going to reverse it. I am sorry if I have offended anybody regarding this but no Eagles return for me".
"Like I said, I didn't quit because of anybody, it was a personal decision. Oliseh didn't force me out of the Super Eagles as it was reported. I don't need anybody to speak with me before I [took] a decision. It was my decision and I won't reverse it," he continued.
"I don't have grudges with anybody but I want to focus on my career and play better for my team. Right now, I'm happy because I am playing my game and everything is working perfect. I can always wish Super Eagles well because I have been a fan for a long time," he concluded.