By Clifford Ndujihe
FEW weeks to the Abia North Senatorial rerun poll, the All Progressives Grand Alliance, APGA Candidate, Chief (Dr.) David Onuoha-Bourdex, has tasked the Progressive People's Alliance, PPA, Candidate, Chief Orji Uzor Kalu, on issues-based campaign.
In a letter to Kalu, the APGA flagbearer, who described himself as the candidate to beat in the election, condemned reports that he had been disqualified by INEC and he had stepped down for Kalu by one of the media organisations owned by Kalu.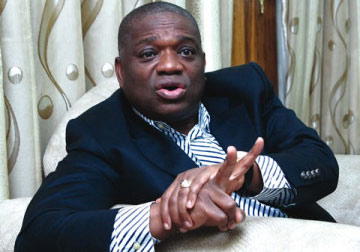 Urging caution and less desperation for the senatorial election, he said: "Abia North Senatorial district and Abia State in general deserve a new lease of life devoid of politics of brinkmanship, thuggery, subterfuge and unethical practices. After seventeen years of democracy, our state should be encouraged to mature into full adulthood and weaned from the childish pranks of yesteryears."
The letter read in part: "My dear brother, Orji Uzor Kalu; I feel constrained to write you this letter, after noticing a series of unethical conducts from your campaign organization. Not long ago a malicious rumour was engineered and spread through news outlets owned by you to the effect that the Independent National Electoral Commission, INEC, has disqualified APGA from the rerun election ordered by the Appeal Court.
"In that particular report, which violated all known standards of balanced reporting, the reporter failed to inform readers how, why and through what means INEC communicated the so-called disqualification. As if that was not enough, your supporters went to town announcing to our people that all candidates including my humble self have stepped down for you.
"And as if the only effective strategy open to the campaign organization was subterfuge and public deception, campaign posters with your picture and party symbol had the APGA logo superimposed on them, were posted on various public places around the senatorial district.
"Now, your Excellency, I do not expect that after eight years in office as governor of this God's own state, you should allow your aides to descend so low in adopting such desperate tactics for a mere senatorial seat. I have therefore decided to point out these anomalous developments to you so that at least you could rein in your supporters and ensure that you show them good examples through honesty and integrity."