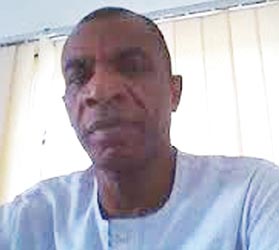 Aziegbemi
Dr. Tony Aziegbemi, university don turned politician served two terms in the House of Representatives on the platform of the Peoples Democratic Party, PDP and won a reputation of steadfast loyalty to the party and its leaders in his native Edo State. In this interview, he spoke on diverse issues including the alleged scam in the office of the National Security Adviser, which he dismisses as a non-issue and gives his assessment of the administration in Edo State. Excerpts:
By Gabriel Enogholase
What's your reaction to insinuations that the ongoing anti-corruption war is one sided?
I did not vote for Buhari in the last presidential election and I am so happy that I voted for former President Goodluck Eble Jonathan. I am happy that I did. Having said that, I think with Buhari at the helm of affairs in this country, Nigerians are in for a one chance bus. We are doomed for disaster; Buhari does not have the capacity to lead this country.
Buhari knows and if he doesn't know, that is a pity, that the office of the National Security Adviser is an office that is made to give security cover to the government of the day in whatsoever form or shape.
Security cover
He knows that the money he is talking about that the National Security Adviser gave to many people is not money from the budget of the nation. It is not. He should know if he doesn't know that the office of the National Security Adviser will be there after him and he is trying to rubbish that office.
The President knows that the office of the National Security Adviser can and is mostly used for some of those things he is accusing Col. Sambo Dasuki of. So, what Buhari is doing is shamelessly probing the political funds of the PDP though the backdoor. That is what he is doing with the Dasukigate.
I can hazard a guess that there are over twenty different accounts in the office of the National Security Adviser and not all monies that come into the office of National Security Adviser are meant for the purchase of arms. Not. If not, where did the National Security Adviser get the money to buy the three Bullet Proof Jeeps they gave him after he was attacked and almost assassinated by Boko – Haram? That money was not taken from the account meant for the Armed forces.
Everything he does is to 'see my perceived enemies languishing in jail, in detention.' Whether that will be good for the nation, that is not his business as far as he makes sure that is what will happen.
The man has lost the capacity to rule this country, but thank God that four years is not too far, we trust the judgment of Nigerians and I am sure everybody was carried away by his anti-corruption toga, but I am sure that in as much as some of us believe that corruption should be fought, we also know that we are supposed to put in place policies that will develop the economy that would make Nigerians make money for themselves and make everybody happy in the system.
There is this belief by Nigerians that the 2.1 billion US Dollars was meant for the purchase of arms.
What he is trying to do is to paint PDP in bad light, to think that all the money that came into the office of the National Security Adviser was given to only PDP people.
No. I can guess, this is about trust, that perhaps former President Goodluck Jonathan had implicit trust in Dasuki and felt that some of the money he needed to run his campaign could be channelled through the office of the NSA.
What is really painful is that he is painting a picture that is not real, he is painting a picture that money meant for arms was being diverted into private pockets or into PDP stalwarts' pockets.
What is your assessment of the Comrade Adams Oshiomhole administration in Edo State?
I will begin by saying that the high hopes that every average Edolite had in his administration in the beginning has been totally eroded and dashed. Since he came on board, he has not met the aspiration of the people.
Let's look at the army of unemployed youths in the state; as we speak, there is no state agency or company that is working. Edo Line Company Ltd, is grounded, the Cassavita Company in Uromi, Auchi Fertilizer Plant, Ehor Fruit Juice Company, Bendel Insurance Company Ltd, Bendel Brewery Company Ltd, among others are grounded.
He met those companies and has succeeded in grounding them because he does not want employment for youths in the state. Secondly, he would normally parrot this phrase that government is meant to create an enabling environment for investors to invest in the state, but I asked, which enabling environment has Oshiomhole created in Edo State for the past eight years for any investor?
Look at the issue of local government administration in the state; I can tell you authoritatively that I have the figures that accrued the 18 local government councils in Edo State.
Huge sums of money were supposed to come into the local government coffers, but it did not get to the councils. For instance, between December 2014 to 5th February 2015, Esan West received a total of N761,578,720, Oredo Local government council within the same period received N1,237,374,111; Etsako West N928,967,395; Ikpoba Okha N1.2 billion, Estako Central N751,703,977.00 and if you go around these local governments, you will not see anything on ground because the state government has appropriated the money meant for the councils.
Appropriation of funds
Hon. Gani Audu is a friend, we know each other very well, but I am surprised that he came out to deny that the state government doesn't appropriate funds for his local government.
He is from Etsako-West and for the sake of what he has said, in December 2014, Etsako West from the Federation Account, got N116,650,941, January 2015, had N126,713,371, January – September 2015, the council should have gotten N925,967,395. Will Gani Audu sincerely say and can he sit down to say that the chairman of Etsako West local government got this amount in his account for this period?
If so, what did he do with this money?  So, there are two issues here. It is either the local government chairmen are getting these monies and are not doing anything with it or the monies do not get into the local governments. My take is that the monies do not get to the local governments.