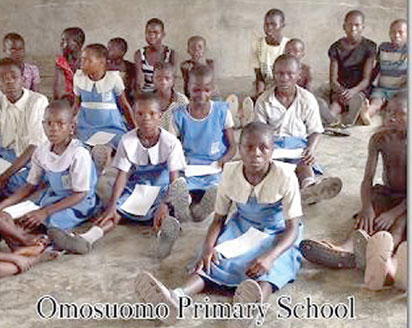 Omosuomo Primary School.
By CHIOMA ONUEGBU
OYOKU ASANG—PUPILS reluctantly recline and sit on the floor in ramshackle classrooms to learn at public primary schools in Oyoku Asang and Okisu communities, Okobo Local Government Area, Akwa Ibom State because of the state government's inability to provide them adequate chairs, benches and other basic education requirements. Uncomfortable parents/guardians are pulling out their children/wards in their numbers from the ramshackle public primary schools, citing unspeakable infrastructure decay and neglect by the state government.
Findings by Niger Delta Voice showed that pupils, indeed, sit down on bare floor to be taught at Government Primary School, Oyoku Asang, due to lack of chairs, while teachers deployed to the schools by government typically abandon their posting. We also learned that the Government Primary School, Oyoku, has only one decrepit block of four classrooms forcing primary four and five pupils to squeeze themselves into one classroom.
The pitiable situation has been like that since 2008 and several complaints by the community to the State Universal Basic Education Board, SUBEB, have not yielded positive results.
Why we withdraw our children
One of the villagers, who identified herself as Amasi, said that the poor state of schools in the area was responsible for the low population as many parents decided to remove their children from the schools accusing government of insensitivity to the plight of the pupils in the area. She complained that pupils whose parents could not afford the fees charged by private schools with better facilities eventually become dropouts.
Clan head laments neglect
At Eweme, Ward 1 in Okisu village, the clan head, Chief Ukwa Ukwa Onoh, said: "Government has neglected this area. It is a very serious situation that all the public schools in the whole of this area is facing the same problem of decayed and non-existent lack of infrastructure, no seats, no classroom blocks. "Government has not done anything for this area to improve the situation. The same situation you saw at Government Primary school in Oyoku Asang is the same thing with the school here in Okisu."
He further said: "This is sad and we have reported to the State Universal Basic Education Board, SUBEB, many times to come to our help, but as you can see, this is simply a neglected and abandoned area. I am still appealing to government to look into our situation as soon as possible."
It's regrettable— Headmaster
A headmaster at one of the schools, who spoke on grounds of anonymity, said that he usually sent the pupils home whenever it rained because the roofs were leaking. "The state of this school has been like this for so many years and because of that teachers posted to the school do not stay. Parents are not bringing their children here. It is an unfortunate situation. We have been trying to draw the attention of government since 2008, but you know government has so many things that it is doing. We are hoping that one day government will remember this area," he said.
Gov Emmanuel is committed to schools' upgrade
Commissioner for Information and Communication, Mr. Aniekan Umanah, said the present administration was committed to  education and would continue with the construction and renovation of schools across the state through the Inter-ministerial Direct Labour Committee.
"These are people- oriented programmes and Governor Udom Emmanuel has made it very clear that he appreciates those programmes and will sustain these programmes because the programmes are in the interest of the people of Akwa Ibom State. Right now, you will see so many inter ministerial jobs. We have started in many local government areas and the construction and reconstruction will continue," he said.