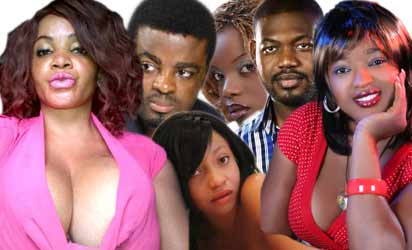 The year 2015 may have come and gone but lovers of Nigerian films will continue to talk about some of the great films and events that made 2015, a memorable one.   It is not only that the expired year was a witness to many great movies, but  that it struck a responsive chord among industry watchers. Here, we prove list of some of the films that raised the bar in Nollywood in 2015.
By Benjamin Njoku
October 1Release date: October 1, 2014
Kunle Afolayan has always proved to everyone that he is a genius. After the success recorded by his second  film, "Figurine".
Afolayan returned to reckoning with his romance comedy drama film,"Phone Swap" which he released in 2012.
He made his fans throng the cinemas again to see his cinematic account of the country's dark history, "October 1"when he released the film late last year.
The film came strong  in 2015, winning laurels at AMAA, AMVCA and BON as well as enjoying rave reviews.
It is believed that the amazing story-line and the ability of the producer to strike a chord with every movie buff makes the film a must watch in 2015.
Dry
Release Date: August 14, 2015
Stephanie Linus bounced back with the release of her advocacy film, ' "Dry,"which many described as a "heart-opener." Starring the likes of veteran actress Liz Benson, William McNamara, Darwin Shaw and Paul Sambo, this film showcases a couple of true life stories about child marriage controversy in Nigeria, abandonment and rejection.
This thematic thrust, however, makes the narrative compelling and endearing  as one of Nollywood's best films in 2015.
The acting is outstanding just as the story evokes a lot of emotion. Already , the film has started winning awards, and it is predicted that it will be one of the films  that will rule  the big screens this year.
Oxford Garden
Release Date: December 4, 2015
Obi Emelonye's "Oxford Garden" is completely enthralling to watch. The film, which premiered early December, saw the celebrated film maker taking a clue from Hollywood trend,and leaving no one in doubt of his ability to strike a balance between Hollywood and Nollywood.
With the likes of former boxing champion, top model and actor, Ngoli Okafor playing a lead character, Emelonye's collaborative film project  was one of the films that helped to deepen the Nollywood brand in 2015. As Emelonye noted, ""Oxford Garden is purely fictional including all the characters.
But the message of the film is fight. Figuratively, metaphorically, categorical and otherwise, the idea is that you have to fight for your place in the society, you have to fight to stay alive, fight for love and everything."
Invasion 1897
Release Date: December 6, 2014
Lancelot Imasuen has never failed to make his fans happier each time he releases a new film.
And his historical film,  "Invasion 1897"is a case in point.
The film, which is unique for its historical values, broke new grounds during the second quarter of  2015, when it toured major cities in the United States including Chicago, Boston, Atlanta, New York, Dallas, winning laurels as well as accolades along the line.
A  great discussion starter, "Invasion 1897" has long become a reference point for many historians, scholars and students of African studies.
It remains one of the movies that raised the bar in Nollywood in 2015.
30 Days in Atlanta
Another movie that made a powerful statement in Nollywood in 2015, is "AY's 30 Days in Atlanta."
Shot  in the United States and starring some of Hollywood's leading stars, the film broke the record as it  grossed N76 million in seven weeks of showing in the cinemas across the country.
The prediction that it would gross over N100 million after Christmas was not out of place.
AY brought his craft as a stand up comedian to bear in the much talked about  film.
Those who have seen the film  cannot deny the fact that it is a bar raiser.
Beasts of No Nation
Adapted from a 2005 novel of the same title by Uzodima Iweala, son of Okonjo-Iweala and shot in Ghana, "Beast of No Nation" took Nollywood by storm when it premiered last December.
The premiere had in attendance the lead character, British-born Hollywood actor, Idris Elba and co-star, Abraham Attah, the young Ghanaian prodigy who played Agu in the film.
Both stars were accompanied to the red carpet by Senator Ben Murray Bruce, CEO, Silverbird Group and Dr. Ngozi Okonjo-Iweala, former Finance Minster.
The Encounter
Release Date: December 4, 2015
For those who are not familiar with the story of what transpired between the Biafran warloard, C. Odumegwu Ojukwu and his bosom friend, Emmanuel Ifeajuna, during the civil war, this short film which premiered early last month, introduces them to the problem.  It also presents new information that is fascinating to learn, especially to those who already know the story.
Fifty
Release Deate: October 13, 2015
Mo Abudu, CEO, Ebonylife TV, turned a producer as she released her much talked about star-studded film, "Fifty." The movie, directed by Biyi Bandele tells the story of a few pivotal days in the lives of four Nigerian women at the pinnacle of their careers. Starring highly talented Nollywood actress including Iretiola Doyle, Omoni Oboli, Nse Ikpe-Etim and Dakore Egbuson, the film lifted the soul of many movie buffs in 2015.
Road To Yesterday
Release Date: November 13, 2015
Resounding ovation greeted the premiere of "Road to Yesterday", directed by Ishaya Bako and produced by Genevieve Nnaji alongside Chinny Onwugbenu.  The film, which closed the 2015 African International Film Festival, AFRIF,  is an epic love story, about a couple desperate to mend its marriage on a road trip to a relative's funeral. It marked dramatic return of Genevieve Naji to Nollywood after taking a break from acting  for some time now.