By Johnson Omomadia
But as it is written, Eye hath not seen, nor ear heard, neither have entered into the heart of man, the things which God hath prepared for them that love Him. But God hath revealed them unto us by His Spirit: for the Spirit searcheth all things, yea, the deep things of God (1 Cor. 2:9). Of a truth, the blessings that God has for you are unimaginable. This is so real because it is not man that the blessing is coming from.  The El-Shaddai God that is all sufficient is ready to manifest His blessings upon you. Know that there is no barrier to the kind of blessings that God has reserved for you. However, you have a responsibility in appropriating the blessings.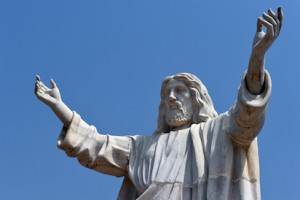 Our responsibility is to please the Father, from whom all blessings proceed through His Son Jesus Christ. It is God's will to manifest Himself in our lives just as He manifested Himself through Jesus' life. But He cannot do it until we do our part. Our part is simply to walk pleasing before Him, that is, to think His thoughts, to speak His words, to walk in His ways.
To enjoy God's blessings, you must decide not to please yourself and start living every moment of the day to please the Father, no matter the challenges or temptations that come your way. There is no room for compromise. Shut the door to every offer of the devil or man that is contrary to the will of God. You need to fight compromise by arming yourself with the commitment to suffer in the flesh rather than fail to please God.
When you are ready to do that, you'll go beyond just not sinning and into a life that is pleasing to God. You will be ready to lay down those things that you enjoy, that hinder your walk with God. If you want to truly enjoy the blessings of God for your life this year, then you must be ready to make sacrifices. Know that your sacrifices are nothing compared to what God has in store for you. the amplified version of Matt.
10:38-39, says, "He who does not take up his cross and follow Me (that is, cleave steadfastly to Me, conforming wholly to My example in living and if need be in dying also) is not worthy of Me. Whoever finds his (lower) life will lose (the higher life), and whosoever loses his (lower) life on My account will find (the higher life)". So you see, if you could see what God has for you in the higher life, you would immediately let go of the things that you are clinging onto. I pray you receive grace to let go of the things of the lower lives.
Until you lay down your life, you will not be able to discover the wonders that are waiting on the other side of your obedience. You can step into this life of wonders by faith. This season is pregnant of God's miracles for your life and it is time for the delivery. Everyone, who will please the Lord , will be amazed of the kind of blessings that will manifest in their lives. The difference between you and your miracle depends on how you please the Lord.
In Heb. 11:5, the bible says that, "By faith Enoch was translated that he should not see death; and was not found, because God had translated him: for before his translation he had this testimony, that he pleased God". Do you think that Enoch knew that he would become the first man to be translated? In his time on earth there was all kind of vices. He had opportunities that others had to compromise but he opted to please God. He sacrificed earthly pleasures. He refused to follow the crowd. He appeared foolish to the rest of the people but at the end he was the one that had a testimony. Beloved, pleasing God in every area of your life must be your priority. The truth of it all is that, pleasing God has no option. God is waiting on you to please Him so that you can start to give your testimonies.
Look at what Jesus said in Jn 8:29, "And He that sent Me is with Me: the Father hath not left Me alone; for I do always those things that please". Jesus said that God was always with Him because He always did what pleased the Father. He always did the will of God. Thus, He was victorious always. The devil could not stop Him. Wherever He went, He brought light, healings, miracles, salvations, joy to the people. He offered them a better way of living.
I beseech you today, decide now to please the Lord no matter the cost and your life and concerns would not cease of unprecedented testimonies. God bless you, our great nation Nigeria and President Goodluck Jonathan. To experience the reality of Christ, you start by giving Him your life. Pray this prayer out loud. Father, I give you my life and invite your Son Jesus Christ to come into my life and be my Lord and Saviour. Fill me with your Holy Spirit. Thank you for saving me.