By Chioma Gabriel
ANYTIME the story of the Nigerian army is told, the name of General TY Danjuma will always feature prominently. Similarly, the political history of Nigeria is not complete without mentioning the role he played in the political development of the Nigerian nation. And talking about one man who has a heart of gold and looks out for the less privileged, General Danjuma is that man.
Indeed, history has been kind to General TY Danjuma (rtd), a Jukun man from Taraba State, northeast Nigeria who ranks as one of the richest Nigerians with wealth running in billions. He had a 19 year illustrious career in the Nigerian Army where he rose to the rank of Lieutenant General and served as Chief of Army Staff before he retired in 1979 at the age of 40.
He was born on December, 9, 1938 in Takum Taraba State, formally Gongola, Nigeria, a farming community known for growing crops such as yams, rice, cassava and beniseed. His parents were Kuru Danjuma and Rufkatu Asibi..
His father was a hardworking peasant whose ancestors were all highly respected members of the community. Kuru Danjuma was a farmer who also traded in metal parts for farming implements and tools.
Forbes list of rich Africans
Theophilus Danjuma started his education at St Bartholomew's Primary School in Wusasa and moved onto the Benue Provincial Secondary School in Katsina-Ala where he was the captain of the school cricket 1st XI team. He received his Higher School Certificate in 1958.
In 1959, Danjuma enrolled at the Nigerian College of Arts Science and Technology in Ahmadu Bello University, Zaria to study History on a Northern Nigeria Scholarship.
By the end of 1960, he left the university to enroll in the Nigerian army.
Danjuma is in the Forbes list of rich Africans. In fact, Forbes report of 2015 estimates Danjuma's wealth to be $1.1 Billion. Fobes believes too, that TY Danjuma is the 22nd richest man on the whole of the African continent.
Life as a soldier: General TY Danjuma was commissioned into the Nigerian Army as second lieutenant and platoon commander in the Congo and in 1963, he joined a UN Peace-keeping force in Sante, Kataga Province in Congo when he was promoted to captain three years later.
In 1966, Captain Danjuma was involved in the Nigerian Counter-Coup of 1966 with the 4th Battalion in Mokola,Ibadan.
In 1967, he was promoted to lieutenant colonel at the start of the civil war campaign towards Enugu, which was captured later in that year. Towards the end of the Nigerian Civil War he led a battalion that freed Jaja Wachuku from detention by the Ojukwu government.
Danjuma and his soldiers were dismayed that, Wachuku, their globally respected first Speaker of the Nigerian House of Representatives, first Ambassador to the United Nations and first Foreign Affairs Minister was in detention for exercising his freedom of speech and fundamental human rights, in terms of speaking out against the recruitment of child soldiers by the Ojukwu led Biafran government.
In 1970 Danjuma attended the International Court Martial in Trinidad and Tobago as Nigeria's representative, when he was appointed president of the tribunal in a case brought against members of a failed coup attempt in Trinidad and Tobago.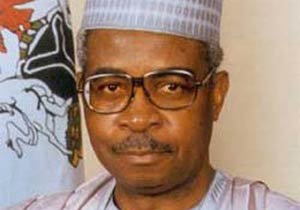 Supporting the president
Following his promotion to Colonel in 1971 he spent next two years with responsibility for court-martialling Army officers proven guilty of corruption and indiscipline.
In 1975, he was promoted to Brigadier and the position of General Officer Commanding (GOC) and in the following year, he became the Chief of Army Staff to the Head of State Olusegun Obasanjo. He played a prominent role in supporting the president in resisting the Dimka Coup in 1976. retired from the Nigerian army in 1979.
The business tycoon: TY Danjuma is a man with a strong entrepreneurial vision.
Following his retirement from the army, General Danjuma embarked on a business career and became a distinguished and highly successful businessman with over 30 years experience. He was the founder of many Nigerian companies including the NAL-Comet Group, one of the most successful indigenous shipping agencies and terminal operators in Nigeria .
In 1995, TY Danjuma took another bold step into the highest money spinning business across the globe when he floated the famous South Atlantic Petroleum Limited, an oil exploration company. An oil Prospecting license (OPL) was granted SAPETRO in 1998 by the petroleum ministry two years after it was established, as OPL 246, covering a total area of 2,590 km2 (1,000 square miles).
It might be of interest, to note that South Atlantic Petroleum Limited owns nothing less than 16 per cent stakes in the famous Akpo deepwater oil field alongside operator Total and china's CNOOC.
General Danjuma equally has stakes in Notore Chemical Industries, a manufacturer of urea fertilizer, which is another diversification into the agro-chemical world, which undoubtedly presents the soldier, politician and businessman as a man of diverse thoughts.
Political career: When the military returned power to civilians in 1999, Danjuma continued to serve in the Obasanjo regime who also returned as a civilian president that year. Danjuma played an active political role since 1999 and held some key appointments in the Obasanjo regime.
In 1999, he was appointed as Minister of Defence by President Olusegun Obasanjo. In 2003, he was appointed Chairperson for investigative committee on the Warri conflict and in 2010, he was nominated as Chairman of the Presidential Advisory Council by the then Acting President Goodluck Jonathan who later became a substantive president.
Part of his campaign in office was to curb the politicisation of the military as a firm supporter of democracy and the rule of law.
Firm supporter of democracy
He also oversaw the renaming of all Nigerian barracks and cantonments from those of civilian or living persons. He was also widely known to be an avid opponent of President Obasanjo's attempts in 2006 to engineer a way that would enable himself and state governors to serve more than two consecutive terms.
Danjuma was also the Chairman of the Victims' Support Fund Committee, supporting the victims of terror such as the Chibok schoolgirls kidnapping.
In a speech at the Presidential Villa in Abuja, on 16 July 2014, Danjuma told the then President Jonathan that Boko Haram insurgents "appeared to be having the upper hand, as they choose where to strike and capture territory, pointing out that the battle to win the insurgency war has already taken too long."
The philanthropist: Apart from his career as a soldier and a politician, General TY Danjuma has left his marks in the field of philanthropy haven created the TY Dajuma Foundation in 2008 with principal aims to provide durable advantages through the implementation of development programmes. The Foundation is operating more as a philanthropic organisation rather than simply as a charity, seeking to alleviate poverty in communities by providing basic amenities, education for children and young adults while also providing free medical care for indigent people.
The Foundation has currently given out about 500,000 USD as grants to NGOs working to relieve suffering in his home state of Taraba which is historically one of Nigeria's most impoverished states, compounded by the absence of a health service which catered for the masses.
The state is perceived to have the highest case of river blindness and other debilitating illnesses.
Currently, the Foundation is partnering with over 50 NGOs throughout Nigeria, and with the support and co-operation of 36 state governors. One of the many NGOs which is being supported by the Foundation is CASVI working in Takum, Wukari and Donga. Recently, the foundation put smiles on the faces of the suffering people of Dako, in the Federal Capital Territory when it donated a solar powered 20,000-litre borehole facility to LEA Dako Primary School, Gwagwalada Area Council.
While performing the commissioning ceremony in Dako, the founder, Lt.-General Theophilus Yakubu Danjuma (rtd) said the facility was in fulfillment of a promise of a borehole made to the primary school in 2014 after a modern teacher's residential house was commissioned.
Danjuma told the people that his foundation had in the past, provided grant to one of its guarantors, Total Child Care Initiative (TCCI) to construct a block of three classrooms, gender-segregated toilets and renovate a classroom block.
Billionaire businessman
Dako is a community located in a remote part of Gwagwalada.
Before this time, he had splashed a whooping N2.2 billion at the Ahmadu Bello University, Zaria at the 50th anniversary of the pioneer northern university after a similar gesture was extended to Bayero University Kano, where the billionaire businessman made another whooping donation of N250 million in support of the institution's development projects. Awards: General Theophilus Yakubu Danjuma is a holder of the prestigious national award title of Grand Commander of Nigeria (GCON) as well as several other merit awards and honours, including traditional titles.
In the current regime of President Muhammadu Buhari, General TY Danjuma has been conferred the Environmental Friendly award by the president who assured that his administration would ensure "environmental justice" for sustainable growth and development. Theophilus Danjuma, was conferred with "Champion for the Conservation of Biodiversity".
It is also worthy of note that General TY Danjuma flies a Hwaker 900XP Hawker private jet, and is also the owner of a Challenger 605 Bombadier.
He owns first class hotels in Lagos and as well as choice residential homes in Lagos, Abuja and his country home in Taraba State. He is married to delectable Senator Daisy Danjuma.