By Francis Igata
ENUGU—Enugu State Government, yesterday, berated the All Progressives Congress, APC, following what it described as unwarranted attacks on Governor Ifeanyi Ugwuanyi over his administration's resolve to shore-up its revenue base through robust taxation.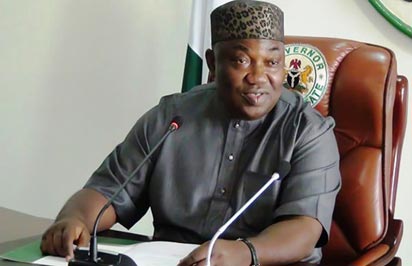 It will be recalled that state chapter of APC had, in a statement by Mrs. Kate Offor, its Publicity Secretary, on Sunday, described the 2016 budget proposal of Governor Ugwuanyi as prone to excessive taxation.
Condemning the unguided comment by the ruling party at the centre, the Chief Press Secretary to the governor, Uwakwe Abugu said, "APC has stunned critical observers of the ailing economy of the nation by condemning plans by Enugu State Government to shore up its revenue base in the 2016 fiscal year by generating funds through taxation.
"Either inadvertently or merely displaying seeming ignorance of the economic mood of the nation, the state chapter of APC is busy attacking Ugwuanyi for proposing to raise more funds from taxation in the 2016 Appropriation Bill presented to the state House of Assembly, while the Minister of National Planning, Udo Udoma, was explaining to Nigerians how the Federal Government formed by the APC will within the same fiscal year of 2016 raise trillions of Naira from taxes as one measure to cushion the effects of the crashing oil prices on the nation's economy almost solely powered by oil revenue.
"Is the state chapter of APC living in the past or so oblivious of the programmes of its government at the centre that it did not realize that the attack on Enugu State Government's move to augment the sharp fall in oil revenue constitutes a clear attack on the Federal Government's tax policy which has been designed in the present circumstance to generate trillions of Naira for the apex government?"
"Or is its condemnation of the Enugu own scheme a part of its usual orgy of orchestration of attacks on the state government just for the sake of making its voice heard at all costs?
"Another aspect of the Enugu APC statement that would beat any imagination is its wishful thinking in trying to dictate to Governor Ugwuanyi how to run his administration. Whereas the governor and his team have long since swung into action to dramatically raise the government's internally-generated revenue through various sources including taxes, the opposition party wants him to abandon this noble course of action and rather pursue only actions for the recovery of funds allegedly stolen by the past administration in the state."