By Innocent Anaba
A Federal High Court sitting in Lagos, yesterday, ordered the arrest of a former Niger Delta militant leader, Government Ekpemupolo (aka Tompolo).
Trial judge, Justice Ibrahim Buba issued a bench warrant for Tompolo's arrest after he failed to appear in court to face the criminal charges filed against him and others by the Economic and Financial Crimes Commission, EFCC.
The judge had, on Wednesday, summoned Tompolo, ordering him to appear yesterday, but the accused did not turn up.
Other accused in the charge include a former Director-General of the Nigeria Maritime Administration and Safety Agency, NIMASA, Patrick Akpobolokemi, who appeared in court in crutches; Global West Vessel Specialist Limited, Odimiri Electricals Limited, Kemi Engozu, Boloboere Property and Estate Limited, Rex Elem, Destre Consult Limited, Gregory Mbonu and Captain Warredi Enisuoh.
They were all in court and represented by counsel, except Tompolo.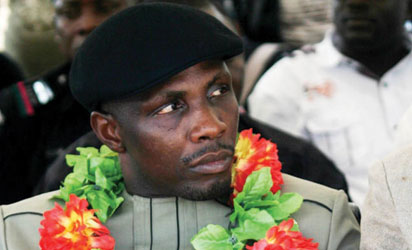 Meanwhile, the charge was not read to the other accused persons as it is a joint trial, which requires the physical presence of all the accused persons, before the charge could be read to them and their plea taken.
EFCC's prosecutor, Festus Keyamo, informed the court, yesterday, that the summons and charge were duly affixed on a conspicuous part of Tompolo's home at 1, Chief Agbanu DDPA Extension, Warri, Delta State, as ordered by the court.
He said Tompolo ignored previous invitations by EFCC during investigation and failed to report to make a statement.
"We were able to go to Warri on Wednesday and pasted the processes on his wall. We took photographs of them as ordered by this court
"In view of the absence of the first accused (Tompolo) despite being served, may we come under Section 141 of the Administration of Criminal Justice Act (ACJA) 2015 to apply for a warrant of arrest.
"Even at the point of investigation, the accused person spurned all invitations to him. Now he has also disobeyed the court. We, therefore, apply under Section 141 so that we can compel his attendance," Keyamo said.
Akpobolokemi's lawyer, Dr Joseph Nwobike, SAN, said though he was not representing Tompolo, it would be in the interest of justice if the former militant leader was given more time  to be in court having only been served with the summons a day earlier.
"A person served in Warri, Delta State, may need some time to come to court, moreso, when he is outside jurisdiction," he said.
But Keyamo pointed out that before the summons were issued, Tompolo had acted like an "outlaw."
Ruling, Justice Buba said there was evidence that Tompolo had consistently ignored EFCC's invitations, so he had no option than to order his arrest.
The court said, "The process is to serve him with summons to appear. Where he appears, that is the end of the matter. He will answer the charges. Where he fails to appear in obedience to the summons, the other process is to compel his attendance by way of arrest.
"There is an affidavit showing that the first defendant was served as ordered by the court. In the circumstance, the court is in a position to exercise its discretion to order for the arrest of Government Ekpemupolo (aka Tompolo) to compel his attendance to answer the allegations before the court.
"It is so hereby ordered that the warrant of arrest of Government Ekpemupolo (aka Tompolo) shall be issued forthwith."
The accused persons in the 40-count charge were alleged to have  diverted N34 billion, which accrued from a public private partnership agreement between NIMASA and Global West Vessel   Specialist Limited for personal use.
The alleged offence contravenes Section 15 (1) of the Money Laundering (Prohibition) (Amendment) Act 2012 and punishable under Section 15(3) of the same Act.
Meanwhile, further hearing in the matter was adjourned till February 8.