By Ola Ajayi
Ibadan—The Olubadan of Ibadanland, Oba Samuel Odulana Odugade 1, has said the promotion of nine high chiefs which caused a stir in the city was not meant to denigrate the office of the governor nor rubbish the directive of Governor Abiola Ajimobi.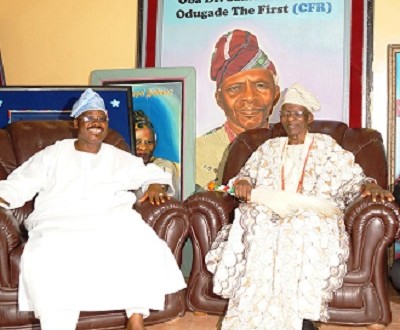 The monarch said this through his son, Prof. Allan Femi Lana yesterday in his appreciation message for the understanding that the governor showed.
Governor Ajimobi, after a truce was brokered by the Ibadan Elders' Forum, had said that the government was uncomfortable with the triviality with which they treated the directive.
To clear any wrong impression, Prof. Lana said, "Olubadan did not ask the high chiefs to disobey the governor but they did it to beat any form of injunction which the Seriki line may want to use to stop the promotion exercise.
"If they had done the promotion exercise for the high chiefs on Saturday, the promotion might not have been allowed to hold.
According to him, there was an issue some years ago when two high chiefs died the same time in Ibadanland, one member of the Seriki line should be brought in to replace them in either the Balogun or Olubadan line. Whereas Seriki line which is the third line and cannot become the Olubadan because their line was not recognised before. But, it was the supreme court judgment that made them to be recognised.
"That has happened again because we have lost high chief Omowale Kuye and Omiyale the same time. So, the high chiefs anticipated that the Seriki line may go to court to stop their promotion. But, the mistake which the high chiefs made was that they did not inform the governor about their plan. They should have even acknowledged the governor's letter and promised him that they would follow due process later."
While thanking all members of Ibadan Elders Forum for their intervention, he said, "The consultation before the meeting that resolved the issue was explosive, especially on the 48 hour ultimatum given by the governor. We thank God that our elders and notable individuals stepped into the matter and resolved it amicably. But, before it was resolved it was tough for the Ibadan elders who had to call separate meetings for the parties involved to pour out their grievances.
"Different people came in with their own bitterness, concerns and unfavourable impressions about the high chiefs and the governor. But in the end, the high chiefs agreed that there was one step missing before their promotion which they did not take.
"But, yesterday each of the parties had identified their lapses, and the high chiefs had accepted where they were wrong and promised to follow due process in the promotion. The governor too given provisional approval for them to retain the positions but that they should follow due process later".