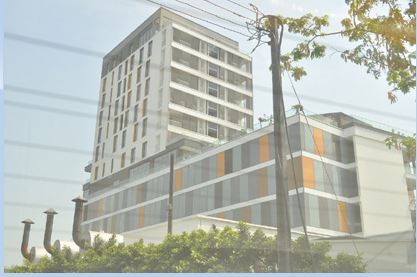 The edifice
By Nkiruka Nnorom
The new British American Tobacco Nigeria, BATN office complex located at No 2, Olumegbon Street, off Alfred Rewane Road, Ikoyi, Lagos meets all the basic considerations in a checklist for a modern-day office space. The building boasts of first-class technology that guarantees optimum conduciveness for staff and other occupants.
The office complex which took about three years from planning to its completion, serves the West Africa region of the multinational. The 11-storey edifice occupies an area of about 6,000 square metres with an imposing height and presence in an elegant office environment that equally boasts of numerous high rise buildings.
The building primarily accommodates staff offices, conference rooms and meeting rooms, while a section of it serves as residential apartments accessible from a different entry point. The apartments include three-bedroom apartments and four-bedroom penthouse that are tastefully finished.
The property has a management system equipped with software that enables the regulation of temperature in the building, thereby adding great comfort and luxury to it. Other state-of-the-art facilities in the office complex include a light-sensored solar system which allows sunlight to penetrate only unoccupied areas of the office.
The building is also equipped with a centralised system that delivers chilled water to each floor and regulates room temperature. There is also a sewage treatment system; sewage from the building is channeled to a plant and is treated before being discharged in line with the Lagos State waste management regulations.
Facilities that point to the fact that BATN is not taking anything for granted in ensuring that the staff and other users of the building are safe and secure are also provided. Close circuit cameras are strategically mounted at every nook and cranny of the building complex. Similarly, every
entrance has a swipe card door control system. After a thorough clearance at the gate, permission for access into practically every space in the building is required of visitors who have to swipe their visitor's card on the swipe card reader on doors. However, visitors would need the assistance of staff or security personnel in order to gain access to restricted areas in some cases. Card access is also required for the use of the lifts.
Also, the office complex is equipped with fire-fighting equipment: a big fire sprinkler tank, water reservoir and fire hydrant system that can feed fire service with water in the event of a fire outbreak. Others are rest rooms (on every floor), which is accessible to the physically- challenged, and an uninterrupted power supply system. The office complex also boasts of three giant industrial generators with synchronizing panels, a water processing unit, conference rooms and meeting rooms.
A striking feature about the building is its architectural design and the offices within. The building has glass curtain walls, which allow some illumination and acoustic comfort within as well as provide a delightful aerial view that extends beyond its immediate Ikoyi surroundings.
Remarkably, an open office design concept is employed in the interior design, which makes for the visibility of every member of staff and activity taking place on an office floor as a result of the absence of wall barriers. Interestingly, it speaks to an open office culture that is fast-becoming popular in most modern-day workplaces.
What is more, there are also recreational facilities, which include a gym and a magnificent swimming pool that is suspended on the fifth floor of the building. This, no doubt, is expected to cement the link between physical exercise and mental equilibrium, which is critical to high performance.
A general note about the office complex is the fact that in spite of the luxury and splendour it radiates, there are quite a lot of cost-saving measures that are in place. During the facility tour conducted by the Facility Manager, Mr. Graham Barr; the Project Manager, Mr. Andrew Davies; and Area Head, Corporate Affairs, West Africa region, BATN, Mrs. Seyi Ashade, Barr explained that the building and its surrounding facilities have a system that helps reduce energy cost.
For instance, the residential rooms are equipped with sensors that immediately detect human presence and can automatically switch the lights on or off when someone comes in or goes out of the room. Barr explained that it is cost-effective to have devices that save cost on energy instead of installing an alternative power source.
In his comment, the project manager, Davies, also noted that all the equipment used for the building and the fittings are of premium quality and some of them were supplied locally.
The BATN office complex is a strong indication of its faith in the Nigerian economy even at a time when several multinationals are either shutting down their Nigerian office or simply downgrading their operations in Nigeria to a trading outpost. "This is the West Africa office and Nigeria was selected because of the partnership we have enjoyed in this country over the years. A lot of attention was paid to constructing this building. It is a commitment from BATN that we are here to stay," Ashade said.
Ashade also remarked that management got staff to buy into the new office complex by seeking their opinions and inputs into the design of the building. This she noted facilitated a smooth transition from their old office to a new one which BATN staff is "proud and excited about."
Worthy of note is the great care taken in delivering a structure that does not make life unbearable for anyone who will need to access a structure of this nature and in ensuring that its presence does not obstruct traffic in its surroundings, which is the lot of many office buildings in the metropolis.