By Dapo Akinrefon
Last week, the Minister of  Information, Alhaji Lai Mohammed, went to town with the news that N1.34 trillion had been stolen from the treasury by 55 public officials in  eight years, that is, between 2006 and 2013.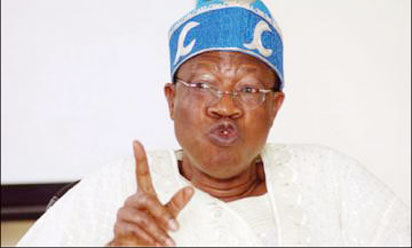 In a follow up interview with Sunday Vanguard, the Minister said Nigerians determined to get the identity of the alleged looters could get them in courts. He also spoke on some other national issues.
Anti—corruption crusade is apparently the issue of the moment. What is the update?
Talking about  corruption, it is time we brought into perspective what corruption has done to our nation, our people and our international image, how corruption stifles economic growth, hinders the fight against poverty, leads to decay in infrastructure and reduces educational standards, lowers life expectancy, stunts the fight against maternal and infant mortality and impacts negatively on the general livelihood of the citizens.
The situation is dire and the time to act is now. For example, between  2006 and 2013, just 55 people allegedly stole a total of 1.34 trillion Naira in Nigeria. That's more than a quarter of last year's national budget! Out of the stolen funds, 15 former Governors allegedly stole 146.84 billion naira; four  former Ministers allegedly stole 7 billion naira; 12 former public servants, both at federal and state levels, allegedly stole over 14 billion Naira; eight  people in the banking industry allegedly stole 524 billion Naira; while 11 businessmen allegedly stole 653 billion naira.
Now, what does these figures translate to in the actual sense? In other words, what is the cost of these stolen funds for Nigerians?
Using World Bank rates and  costs, the stolen amount would have built 1,905 kilometres of roads, 108 ultra modern hospitals, built 549 schools, educated 11,922 children from primary to tertiary level at 25.24 million naira per child, and built 60,186 units of 2-bedroom houses. This is the money that a few people, just 55, allegedly stole  in  eight years. And instead of a national outrage, all we hear are these nonsensical statements that the government is fighting only the opposition, or that the government is engaging in vendetta.
Irrespective of your political, religious or tribal leanings, and not minding whether you belong to the APC, PDP, SDP or Labour Party, if you have stolen public funds, you must not go scot-free. You must return the funds to the treasury and face prosecution. Nigerians must know that they cannot get the best even from the very best government if the scourge of corruption is not tackled decisively. Everyone and every arm of government must rise up to be counted in this epic war, and defeat is not an option if our country is to survive. As President Muhammadu Buhari likes to say, if we don't kill corruption, corruption will kill Nigeria. There is no better way to say it.
Everyone and every arm of government must be involved in the fight against corruption, which is one of the cardinal programmes of the Buhari  administration. Irrespective of what anyone may say, President Buhari is leading this fight by example and right from the front. His unparalleled integrity, his uncommon love of country and his undiluted dedication to service all put him in good stead to wage this war, and we must all support him and own the war in order to ensure its success. This is not Buhari's war. This is not APC's war. This is Nigeria's war.
Questionable court orders
Equally critical to the success of the war is the judiciary. Unless this very important arm of government fully joins in waging this war and does not consider it business as usual, the pending cases of corruption will just drag on until they outlast this administration. I am not saying this lightly at all. A situation in which a single court issued five orders all in favour of those being prosecuted for corruption in 2015 alone calls for concern.
In one case, the court granted an ex-parte order staying all actions in connection with any allegation of corruption or other wrong doing which has been the subject of investigation by the EFCC and the House of Representatives. The same court declared unconstitutional the arrest of two applicants, despite exhibit of the criminal charge pending against the applicants, and ordered the  de-freezing of the applicants' account, even after the court had been informed of the existence of a subsisting freezing order by the High Court in Lagos on the account. The same court ordered the EFCC to de-freeze the accounts of people implicated in the laundering of 4.5 billion Naira and perpetually restrained  the EFCC from investigating them, after they were invited for an interview by the commission.
The same court stopped the investigation and arrest of an accused, and ordered the release of 2.2 million dollars seized from him. And, finally, the court ordered that the accused implicated in the laundering of over 1 billion dollars should not be harassed or intimidated and his seized international passport be released. You can judge for yourselves whether these orders help or hinder the fight against corruption.
In the days ahead, we intend to carry this sensitization programme to all the corners of the country, leveraging on the wide reach of the National Orientation Agency (NOA). We also intend to partner with other agencies of government, especially the anti-corruption agencies and the police, as well as the Presidential Advisory Committee on Anti-Corruption.  We have no doubt that if Nigerians know the true costs of corruption to their lives and well-being, they will be less susceptible to swallowing the frivolous, self-serving and orchestrated distractions from the corrupt people and their benefactors and beneficiaries. We must kill corruption before it kills us.
But  Governor Ayodele Fayose of Ekiti State, who is  a leader of the opposition PDP, has challenged you to mention the names of the 55 Nigerians  who alleged stole these funds.
My answer to him (Fayose) is that those people who stole the money know themselves.
But  shouldn't government disclose the looters' names or publish them?
If you go our courts, you will find their names, we are not just compiling new names
Mixed reactions are trailing President Muhammadu Buhari's media chat
I think Mr President was forthright and candid in his response to issues; so how can anybody say he was not  forthcoming?  He was very forthcoming on every issue. On his asset declaration, he said he  had  done his  duty, it  was for you to go to the Code of Conduct Bureau to find out. He went further to say that if they don't allow you, you can go to court. All he said is that  he had declared his assets and he made it public. Anyone who is interested in knowing the details  can go to the Code of a Conduct Bureau and if they stop you there, you should know what to do. On the Dasuki issue, he was forthright. The conclusion I draw from what the President said during the chat is  that he was asking all of us how  the cause of justice will  be better served? Is it by giving Dasuki bail or he  absconds or he is  allowed to have his day in court?
On the President's position on the NASS and the electricity tariff and removal of fuel subsidy
What I understand from  Mr President's statement is that, given the cost of crude, there is no subsidy element if PMS is sold for N85. The President said it is not a matter of removing subsidy or not, the reality today is that with the present cost of crude, under $40, government is not subsidizing anybody by selling refined petrol  at N85. So why should we go to the National Assembly  with  a bill?  He went further to say that what government needs to do now is  to  ensure that our refineries are working. When they are working, we will be importing less fuel and,, that way, even if the price of crude goes up, if we can refine the 445,000 barrel of crude per day, that will be more than 60 per cent of our needs.
Electricity tariff
This tariff was actually approved and was supposed to  have been  implemented just before  the 2015 elections. But for political reasons, the then President said  it  should not be implemented. The  new minister must have met with the major stakeholders and listened to them. We cannot on the one hand need power and not pay for what I call price reflective tariff.
What I know the minister also did was that he abolished the basic tariff and that increase really should not be seen in terms of percentage, but in terms of naira and kobo. The real increase  might look huge in terms of percentage but in terms of  naira and kobo, it goes between 12kobo  and  N1. What I don't know is whether, the first time the tariff was increased and implemented before it was reversed, had the assent of the National Assembly.
His critics on Boko Haram
It is either my critics are  misinformed, ignorant or mischievous or they have their own agenda because they all sit down in their small rooms  and comment on what they know little or nothing about. What I said, which has  attracted so much criticism, is that the military had largely met the deadline of defeating Boko Haram by December 31, 2015 and I backed it with facts and figures. For instance, I said that about  a year ago,  Boko Haram was in firm control of at least 30 local governments in Nigeria. They were controlling a territory the size of an entire geo-political zone but that, today, they have been  decimated and  pushed out of those local governments. They might be operating from one or two but they are definitely not in control.
I also said that Boko Haram had been so dealt with that they lacked the capacity to unleash the kind  of mayhem they used to unleash before, like coming to attack police headquarters, United Nations complex or our barracks or  garrisons. Today, they have been reduced to cowardly attacks  on  soft targets.
I also said in my statement that this defeat does not mean the end of suicide bombings, it does not mean the end of attacks on soft targets, but that this is a time that we civilians must take over the civilian components of the fight, that will start with national security awareness.
How do you identify suicide bombers? How do you make sure that your parks and cinema houses are better secured. I had also appealed to the media that they should look at the war from a more patriotic viewpoint and that in time of war, nobody can afford to be neutral and that they should please refrain from glamourising  Boko Haram and giving  them oxygen.
So, I do not see how anybody can fault these facts. I would have been  worried, for instance, if they have  retaken any territory we had taken from them, that is when I would see relevance and I had also said that we expect these spikes in their attacks before they would want to prove that the army has not met the deadline. It would be part of their propaganda. I have been to the liberated  areas but they critics have not  been there;  so whatever information they are receiving is second hand or third hand. I have been there and I have seen the gallantry of our soldiers. I stand by what I have said and I am happy that my position was re-echoed by Mr President.