By Tina Akannam
Barely 24 hours to Christmas, prices of foodstuff and other essential commodities have escalated in some markets in Jigawa State.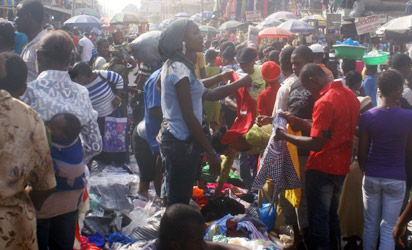 Vanguard's investigations reveal that the rising cost of petrol affected prices of commodities such as tomatoes, pepper and onions.
Even though the demands for the items are low compared to last year, some of the traders and buyers, who spoke with Vanguard said, the increase was due to high cost of transportation caused by the scarcity of fuel.
In Hadejia market, a basket of tomatoes formerly sold for N3,000 now sells for N5,000 to N6,000 due to the high fuel.
Similarly, a bag of onion which was sold for between N4,000 and N5,000 before, now sells between N7, 000 and N9, 000.
In Dutse market, a basket of pepper formerly sold between N2,000 and N3,000 now sells for 5,000.
Mallam Abubakar, a tomatoes seller at the Dutse market, attributed the high cost of tomatoes to the high demand of the commodity, as well as sudden increase in the price of patrol and transportation.
He lamented the slight increase in the cost of the commodities in the market, adding that sales have been very poor because people buy small instead of the usual Christmas rush.
Madam Ngozi OKey, told Vanguard that even though there are usual increase in the prices of food items during festive period, this year the sales will drop because only few people are travelling because of the hardship.