By Anayo Okoli
UMUAHIA—ABIA State governor, Dr. Okezie Ikpeazu said that he will not reduce the N18,000 minimum wage for civil servants in the state.
Governor Ikpeazu also denied rumour of plans to reduce the state's workforce, saying that despite the adverse economic situation, Abia has not entered the "relegation zone."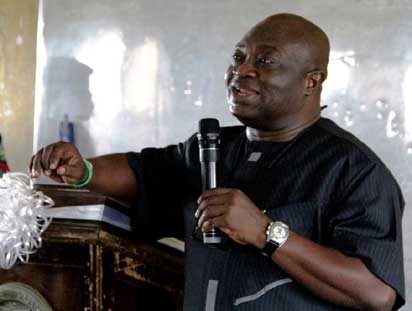 According to the governor, though the federal allocation to the state in the last six months has been between N2.2 and N2.4 billion, which he said was "hardly sufficient for the overhead," he has no intention to slash salary or sack workers.
Ikpeazu tasked the state's workforce to work hard and join hands with the government in the effort to raise the internally generated revenue [IGR], which he has set a target of N1.5 billion monthly.
The governor who spoke with journalists in Umuahia, explained that it was only an improved IGR that will keep the state afloat and urged the civil servants to work hard to achieve the target.
"For now, we are not contemplating down-sizing the workforce. Times are hard but I don't think Abia is on the relegation zone. But I will be tasking our workforce to work hard. It is only a problem if they are not working hard.
"In the days ahead, I will make them to work harder. If they help me to source for more revenue, we will not reduce minimum wage. We are also paying judiciary workers the new scale. We have managed to be prudent and I think we can do more.
"As long as I find resources, their salary will be first charge but I will not use money borrowed for infrastructure to pay salary."
He also said that the government would drastically reduce wastage. According to him before now, a lot of government revenue was being diverted.
"Before money collected as revenue gets to government coffers, about 70 per cent of it had gone. We have adopted a quasi-TSA for the state. The warehouse account will take care of all the other ministries. It will help us to reduce wastages,"Ikpeazu said.