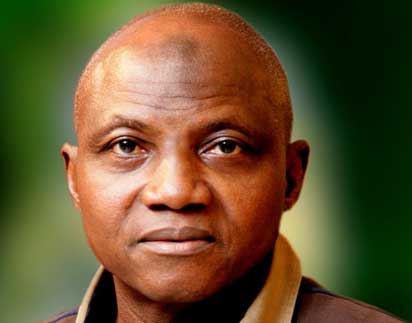 Garba Shehu
By Demola Rewaju
So, the Senior Special Assistant to President Muhammadu Buhari on Media and Publicity, Mallam Garba Shehu, picked up his pen a day after Christians celebrated Christmas and finding nothing worthwhile to report from Aso Rock, decided to write instead about how the anti-corruption war is in actuality a political onslaught against the only party that can keep the ruling All Progressives Congress (APC) on its toes for now.
Pardon me, but I am not impressed.
Shehu's history as a runner of media narrative for one of Nigeria's former Vice-Presidents is well known – his deployment of his pen in defence his against the former President Olusegun Obasanjo's corruption attacks can easily be recalled – that his pen writes about anti-corruption now is a sign that some pens are without conscience.
Then as now, Shehu should be reminded, that Nigerians were not convinced that the former Vice President was entirely without stain in corruption matters, but we rallied behind him as the spearhead of the only coalition that could put a stop to ex-President Obasanjo's attempt to impose himself for a third term.
That script has now firmly passed from Obasanjo to President Muhammadu Buhari whose wish seems to be absolute freedom to do as he pleases – with a caged legislature, a tamed opposition and a judiciary that delivers judgments in favour of the ruling party – we have been here before.
But we choose not to be distracted.
There are real issues that Shehu could have addressed – the lingering fuel scarcity for instance, of which ministry his principal heads as Petroleum Minister – when can we expect succour?
Nigeria has never experienced a worse festive season as this since the days of Obasanjo – from an economy spiraling out of control and without direction to a government of clear contradictions – that promises transparency but fails to disclose how much is allocated to Aso Rock as feeding allowance (rumour says NGN1.7bn, 700m higher than last year's), if for nothing, but so that we can laugh at it as we did with Jonathan, and for a moment not be reminded of our present troubles and very likely bleak 2016.
We will remind Shehu: Mr. President was voted into office for different reasons, just one of which is fighting corruption in PDP alone – the battle against corruption is supported by Nigerians in the belief that it will help turn things around for us economically and perhaps we might ask: how many loopholes and leakages has the current administration blocked so far or shall we assume that the barrels of oil we were told are being stolen per day are no longer being stolen since May 29?
When will Shehu or the Special Adviser to the President on Media and Publicity, Mr. Femi Adesina tell us of how some ministries did not exhaust their 2015 allocated funds and they returned it to Government coffers?
One is encouraged that Boko Haram has now being technically defeated. One must ask however when the Chibok girls will be brought back?
This, if Shehu will realise, is another reason that Nigerians voted the incumbent government in.
Has Garba Shehu seen the picture of Senator Dino Melaye posing for pictures while exiting a presidential aircraft? One of the many that APC told us would be sold off once they come into power as a cost-saving measure?
If you had like me thought that Femi Adesina's tweet on Christmas Day where he referenced "Wailing Wailers" was a joke or mockery, it wasn't – and Garba Shehu's article is the proof – the idea is to keep us politically divided and tag everyone who supports the opposition Peoples Democratic Party (PDP) as a supporter of corruption but here is why it is so important for this Governtent and its spokespersons to keep us divided politically:
They're fast losing support. It was always going to come at some point – with Jonathan picking over twelve million votes to Buhari's fifteen million, it was clear that some rejected the change message of APC as well as the incumbent President.
Wisdom stood at the gate of Aso Rock on the night of May 29 and screamed to Mr. President: "Move quickly to occupy a middle ground and become a unifying President. Move!" Wisdom said, "…and hit the ground running for by that you will justify the votes you got and win over the doubters".
But Mr. President that night chose to dine with the sinners who by sponsoring #Change got a papal bull absolving them of all sins.
And so Buhari did not hear Wisdom that night and is now losing support.
Many are in regret for voting him and although some out of shame cannot speak so soon, many others are now willing to listen to what PDP had to say.
We therefore must make it clear: that elections are over and people have united behind this Government to deliver on its #PromiseOfChange and not turn it into a #ChangeOfPromise.
Shehu in a rare moment of truth admits that a section of PDP (Board of Trustees) is supporting the anti-corruption war but the National Working Committee is opposed to it.
Shehu forgets conveniently that the National Publicity Secretary of the PDP, Chief Olisa Metuh, several times has said that anyone found guilty of corruption in the PDP should not be spared and I doubt that any PDP BOT member has even spoken on the matter.
But when men are desperate to see what they want to see, conjuring things up is such an easy task.
We should ask: when will Government agencies headed by handpicked cronies called from retirement start picking up PDP NWC members for corruption since Shehu is convinced that they are corrupt?
This Government just pressed the panic button. They need a rallying cry, they need an enemy to focus the energies of the people on and they've found both – corruption and PDP.
They flew the kite of 'inviting' Jonathan to EFCC for questioning but found that it didn't seem exciting to anyone – people who voted Jonathan out had gotten tired of him already and just wanted to focus on the man of the moment, Buhari himself.
Shehu is attempting to stir up their party base but forgets that even they too are tired of this Go-Slow Regime.
#DasukiGate lasted long enough but it failed to last as long as this present #FuelScarcity – one of the longest we've had in the past sixteen years.
#DasukiGate lasted until #BuhariGate became a fan topic of discussion on social media.
Shehu, Adesina and their principals should realise: attempting to Govern by Propaganda will work only on gullible people. Mr. President is not only President of APC but also PDP. He is not only President of Lying Liars but also of the Wailing Wailers.
Open your ears: many more are wailing by the day and that is why one hopes that this single-agenda government will expedite action on charging PDP leaders to court for corruption since corruption is a member of PDP that becomes stainless when it joins the APC.
Nigeria needs PDP to position its ideas against this Government but to do that requires a capacity to think and a credible voice.
If before the convention in March, this Government helps PDP to flush out every corrupt person, we may then be able to see credible leaders in PDP and I suspect that for every Dasuki found guilty by media trial, there is a Mukhtar Shagari. For every Dokpesi in PDP, there is a Chibudom Nwuche. For every Jim Nwobodo, there is an Osita Chidoka. For every Bode George, there is a Jimi Agbaje and for those that the Government hasn't listed as good targets for celebrity trials – there are Umar Nasko, Frank Nweke, Chika Chikelu, Ebenezer Babatope, Ibrahim Shekarau and so many others.
If APC's politicised war on corruption helps purge PDP of corrupt leaders, it will give occasion for more wailers to join the party officially or non-officially and be proud to be a part of a truly national party.
Demola Rewaju, a Public Affairs Analyst and Political Strategist writes from Lagos.