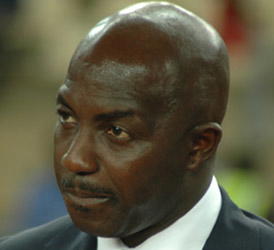 NOT A LAUGHING MATTER – Siasia
Fresh from winning the CAF Under-23 African Cup of Nations, Nigeria coach Samson Siasia believes his achievement at the Beijing 2008 Olympics can be surpassed.
Siasia, a veteran of football tournaments of sorts, won a silver medal at the 2008 Games, and after earning the right to be at the 2016 Games in Brazil, the former Super Eagles striker stated that with hard work Nigeria can win the gold.
"I was coach of Nigeria during the Olympic Games in Beijing in 2008, when we reached the final, and in 2016 we will aim to do more than reaching the final by winning the (gold) medal," Siasia said. Nigeria won the men soccer gold at the 1996 Olympic Games in Atlanta USA and came to repeating the feat in Beijing, China.
But Lionel Messi and Angel d Maria combined to score the only goal of the match and handed Argentina the gold. Nigeria U-23 players gave a good account of themselves in that match, much to the appreciation of Argentina legend Diego Maradona.
Meanwhile the Dutch coach who led Nigeria to the gold in Atlanta'96 Johannes Bonfrere has backed Siasia to do well in Rio 2016.
"He has done well with the youth sides in the past and his experience will be vital for Nigeria in Brazil. "But there are a lot of things that will still come into play, like getting a good draw and preparing well for the competition. "If they are lucky and get things right, they can win it again.''