Yes – Esele, ex-TUC chief
*No, it will bring untold hardship – former PENGASSAN leader
By Udeme Clement
The move by Federal Government to increase official pump price of Premium Motor Spirit (PMS) commonly known as petrol, from N87 to N97 per litre, as well as proposed removal of fuel subsidy has sparked controversy among Nigerians and stakeholders in the oil and gas sector. While some people said government should remove subsidy to invest the money in developmental projects, other said government's action will bring more hardship on the citizens.
When Sunday Vanguard visited some labour organisations within Lagos metropolis, 70 percent said the masses will be the most affected, as prices of goods and services will increase beyond their reach.    While at the local airport, some passengers said government must manage the situation well to prevent any increase in airfare. It was also observed that the cost of transportation in some parts of Lagos increased by 50 percent, as petrol sold for between N180 and N150 per litre.
Some experts, who spoke with Sunday Vanguard, expressed their views:
At N97 per litre, there is no subsidy: Former President, Trade Union Congress of Nigeria (TUC), Comrade Peter Esele:
"We can move back to N97 per litre as we used to buy before the last administration brought the price to N87. If petrol sells at N97, it means there is no subsidy again, because that is the market price.    In my opinion, bringing the price down to N87 was the mistake government made. This is because, the extra N10 that was removed per litre amounted to a huge amount being added to subsidy payment on daily basis.
Again, if government wants to remove subsidy; what are the plans for the citizens?  How will they improve the lives of Nigerians? These questions are vital because we should not just talk about subsidy removal without putting measures in place to develop infrastructure, to  improve the living conditions of the citizens."
Payment of petrol subsidy is not good for our economy- The Managing Director, Afrijet Airline, also former Deputy Secretary General, Airline Operators of Nigeria (AON), Mohammed Tukur:  "I support  removal of petrol subsidy 100 percent, as such payment does not make any economic sense. Now, we are not buying fuel at the official pump price of N87 per litre. There is price variation across the country. Some filling stations are selling at between N150 and N130 per litre, while others are selling higher than that. In other countries when crude oil price drops, the price of fuel also drops, but that is not the case in Nigeria, as the price of fuel is still high despite declining crude oil price.  Iran  wants to flood the market with crude oil, once they start, the price of crude may come down to 1$ per barrel. So, let subsidy be removed for us to move forward."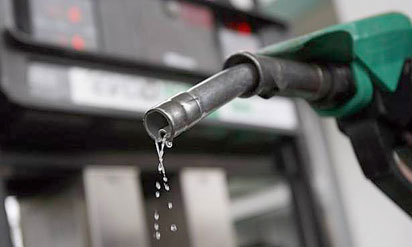 On whether increase in the price of petrol and removal of subsidy will have adverse effect on the Aviation sector, he said, "It will not affect the sector too much because aviation fuel is of higher quality than the normal PMS. You can even use it to cook because it is like kerosene. For instance, if there is an emergency, a pilot can use kerosene to fly, but it is very risky because kerosene is not of good standard like the real aviation fuel. Therefore, people must be warned about the dangers of flying airplanes with kerosene. Apart from the low quality, it can damage the engine of an aircraft, it can cause plane crash and air-return. That is why some international flights when they come, they get certification to see where they get their aviation fuel from, to prevent using kerosene.
"Looking at the industry this year, we can't say we have not achieved anything. Before the general elections, the major achievements were, stealing of money, poor infrastructure and abandoned projects at airports. We made positive achievements in terms of Nigerian Civil Aviation Authority (NCAA) curtailing air crashes and retaining the Category-One certification for Nigeria, but we can't boost of achievements in aviation without improvement in airports infrastructure.    The multiple charges are still there, even as local airlines are still heavily indebted.
"Now, we are going back to square one because the last administration granted waiver for spare parts importation, but the current Finance ministry removed the waiver and categorised importation of spare parts with other things. For instance, if you import an aircraft now you must pay duty, and if you go back to import engine or other spare parts for the same aircraft, you are compelled to pay duty again and navigation charges. The current Minister of aviation must look at their area again, because the new administration hastily removed the waiver without due diligence. Everywhere in the world, importation of spare parts for aircraft is duty free. If the waiver is not replaced, the implication may be increase in flight fare, because local airline operators have to pay their debts, to remain in business."
Removal of petrol subsidy will bring more hardship on Nigerians-  Former Zonal Chairman, Petroleum and Natural Gas Senior Staff Association of Nigeria (PENGASSAN),    Comrade Folorunso Oginni:   "We are not in support of subsidy removal because it will bring more hardship on Nigerians. In the first place, fuel is not supposed to be imported, for subsidy to be paid on it. But because we failed to plan, so, we planned to fail. If government removes subsidy now, will Nigerians still buy petrol at a high rate with a minimum wage of only N18.000? This is because the cost of transportation will increase, especially for people bringing food items from the North and other parts of the country. The price of goods and services generally will skyrocket. I think government must sit down to look at the issue again.
"So, what exactly, can we say  Nigerians are enjoying in this country? Ordinarily, we do not suppose to buy fuel more than N30 per litre. Look at the bad condition of our roads, for instance, Lagos-Ibadan Expressway is very bad.  So, we do not support the removal of subsidy. Let government build refineries and refine our crude oil in Nigeria to stop importation. Saudi Arabia, where petrol is sold at equivalent of N22 per litre is not better than Nigeria.
"If subsidy is removed now, tomorrow government will tell us there is another subsidy to be removed. How many times did former President Olusegun Obasanjo remove petrol subsidy? That time, government said, they were going to invest the money in other sectors of the economy, yet our education sector is in disarray, the healthcare system is still very poor, our manufacturing sector is in comatose, even the rail system is not functional. So, where is that money? Who is subsidising who? As, I said earlier, we cannot support removal of petrol subsidy now, instead, let government build refineries across the country and employ our youths are who jobless."