By Bartholomew Madukwe
LAGOS—A security guard, Kenechukwu Okonkwo, was yesterday brought before a Lagos High Court, Ikeja, for allegedly raping a 29-year old woman (name withheld).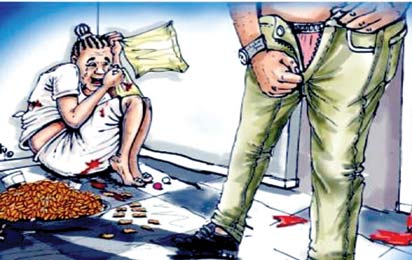 The defendant was arraigned on a count charge of rape brought against him by Lagos State Government.
According to the charge, the alleged offence, which is contrary to Section 285 (1) of the Criminal Law of Lagos State, 2011, was committed on December 27, 2013 between 10pm-11pm at the defendant's residence.
Testifying before the trial judge, Justice Atinuke Ipaye, the prosecution witness, Dr. Joseph Jideonwo, said when he examined the victim her underwear was soaked with blood.
"The  broken hymen is not an indication that the victim was forced but the injury on the vagina will indicate that it was a forced act. There was no scan done on the private part. I did not see the defendant, so there was no way I could examine the semen found on the victim to know if it was his," Jideonwo said.
It was gathered that the defendant assisted the victim with accommodation at his home, but trouble started when she decided to leave.
The defendant, in his statement to the police, stated that when the victim insisted on leaving he refused her because he wanted to make love to her.
"I began to touch her body. She refused, shouting that I should leave her. She told me that she was a virgin. She was struggling with me to let her go. Suddenly we both fell down on the floor. I did not succeed in penetrating her.
"Because of her shouting, my landlord came out calling me, asking what was going on. I did not cover her mouth with wrapper, I did not beat her. I actually struggled with her in attempt to have sexual intercourse with her, but I did not penetrate her," Okonkwo explained.