By Stephen Mmadukwem
Chieftains of Edo State All Progressives Congress, APC, have been urged to rally round Governor Adams Oshiomhole in his effort to leave lasting legacies in the state rather than stay aloof or join the opposition to vilify him.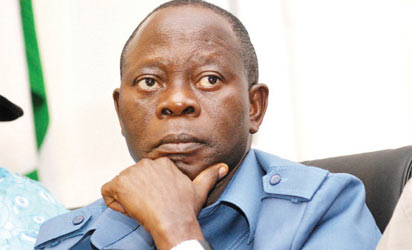 A Senior Special Assistant, SSA, on Media, to the governor, Mr. John Mayaki, in a statement yesterday said: "In the past seven years, there are some members of this party who have not granted interviews to media houses or issued a statement to appreciate, encourage and support the governor for the developmental projects he executes.
Those criticizing the governor today are those who have benefitted from his benevolence but have nothing to put on the table either for the development of the state or the party. Oshiomhole paid (December) salaries on the 21, but we didn't see any of these people appreciating him."
"Oshiomhole's singular effort to increase the internally generated revenue of the state through the implementation of already existing tax policies which was resisted by some untouchables in the state, we did not find our big politicians who are presently queuing up to reap from the party standing up to be counted when they were needed most.
"We all can see what Oshiomhole is doing in terms of road rehabilitation in the metropolis and across the state. We all can see the good work Engineer Mujaidu Dako, Managing Director of Rapid Response Agency s doing on Boundry Road, Federal Road, Aiguobasimi and PZ Road. We can see work going on in Ihama Road, and from there to Akhiobare and Central Road but we have not seen our people appreciating the Comrade."