By Chimaobi Nwaiwu
Nnewi – The peaceful protest embarked upon on Tuesday by the Indigenous People of Biafra, IPOB, against the continued incarceration of Mr. Nnamdi Kalu the Radio Biafra Director, turned bloody at about 1.30 am early hours of Wednesday, after an alleged encounter by the Joint Military Taskforce comprising, Army, Navy, Police and Civil Defense, who clashed at Niger Bridge Head with some members of the IPOB who vowed to continue their blockage of the bridge for three days until Kanu is released.
The encounter left about nine people dead, five at Niger Bridge Head, three at Obodoukwu Road, a Suya meat seller said to have been hit by stray bullet who died instantly.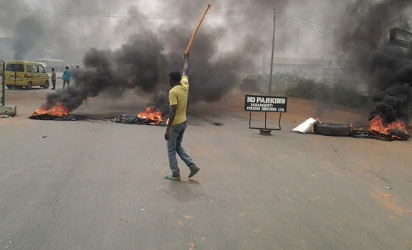 Miscreants on hearing that some people have been shot dead by the joint Military taskforce went into another protest, marched to the Central mosque at near Onitsha Main Market and set it, a Hilux Pick Up van with federal Government number was also burnt when the Joint Military Taskforce held motorist and commuters hostage at Upper Iweka with sporadic shooting that has never been witnessed before in Onitsha.
The protesting IPOB members had blocked the Niger Bridge early Tuesday morning there by grounded vehicular movement in and outside Onitsha, and people who knew alternative through the river Niger boarded Flying and Speed boat through Marine Police station to cross in and out of Onitsha to Asaba, but incidentally the protest was aggravated with Wednesday early hours shooting to death of five IPOB members seen at about .30 am observing their three days protest at the Niger Bridge Head agaisng the continued detention of their leader, Mr. Kanu.
As at the time filing this report all the markets in Onitsha have been shut down around 12.30 pm, as millions of traders in all the markets in Onitsha and its environs were seen tscampering for safety and rekking to their homes, looking tired and worried, as gun shut were sporadically shot almost every corner in Onitsha.
The protest had their peaceful protest on Tuesday without any casualty but the situation was aggravated when the Joint Military Taskforce who could not disperse them on Tuesday invaded the Niger Bridge at about 1.30 am and opened fire on the thousands of the IPOB members who refused to leave the Niger Bridge, the entry to South East, killing six people including the Suya seller said to have been hit by stray bullet.
The alleged killing of the IPOB members was said to have sparked off another protest by IPOB members who were joined by MASSOB members who made born fires along Onitsha Owerri Road and Onitsha Enugu Express way, forcing motorists coming in and out of Onitsha from both Enugu, Asaba, Owerri difficult to enter or exit.
One of our reporters who went to Oba for an assignment was trapped at Oba Junction, where had to pay N3,000 from Oba Junction to Tazan junction Onitsha, as over 2000 vehicles coming into Onitsha were seen parked at the Oba junction and refused to come into Onitsha.