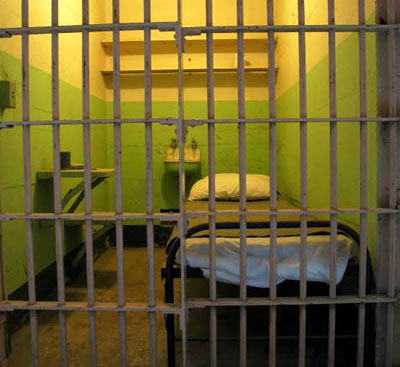 Prison
A Kenyan court on Thursday jailed alleged British terrorist Jermaine Grant for nine years for forging documents, after an appeal court overturned his acquittal.
Grant is still on trial for terrorism offences following his arrest in 2011 but on Wednesday High Court Judge Martin Muya in Mombasa found Grant guilty of nine charges relating to forged documents.
"The accused will serve one year imprisonment on each of the nine counts, and each count will run consecutively, which means that he will serve a total of nine years imprisonment," Muya said.
The sentence was pronounced after the prosecution appealed an earlier ruling to drop the charges in January.
Grant pleaded guilty in December 2011 to charges of being in the country illegally and lying about his nationality, for which he was sentenced to two jail terms of two years each.
But has denied all other charges, including allegations he planned a bombing campaign against hotels popular with foreign tourists.
Grant is accused of ties to East Africa's Al-Qaeda branch, the Shebab, after he was arrested and found to have chemicals, batteries and switches in his possession.
Prosecutors have also accused Grant, a Muslim convert, of working with fellow Briton Samantha Lewthwaite, dubbed the "White Widow" by the British tabloid press.
Lewthwaite, a 31-year-old Muslim convert, is the widow of Germaine Lindsay, one of four Islamist suicide bombers who attacked the London transport network on July 7, 2005, killing 52 people.
Despite repeated rumours there has been no confirmed sighting of her since she gave Kenyan police the slip in Mombasa in 2011.
Grant is believed to have become radicalised as a teenager in the same British prison where "shoe bomber" Richard Reid first turned to Islam.
Reid, who claimed he was an Al-Qaeda recruit, is serving a life sentence in the United States for trying to blow up a flight from Paris to Miami in December 2001.
Under pressure in Somalia, where it has for years been fighting to overthrow the internationally-backed government, Shebab is now increasingly targeting Kenya.
The Shebab was once a magnet for foreign fighters, but its capacity to recruit has in recent years been eclipsed by the rise of the Islamic State group in Syria and Iraq, while several foreign Shebab members have fallen victim to infighting and purges.