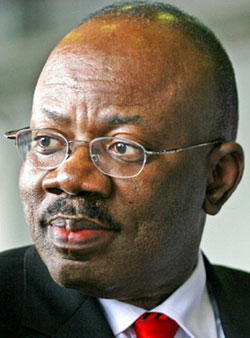 Jim Ovia
By Emeka Aginam
No fewer than thirty five computer students of the Nigerian Computer Society would get scholarship funding  from Jim Ovia ICT Foundation.
NCS had instituted the scholarship prorammge to assist its members pursue critical research programmes for the betterment of the industry.
The chairman and founder of Zenith Bank Plc, Jim Ovia, who announced recently  at the during the just concluded  2015 NCS National Information Technology Merit Awards, NITMA, told the gathering that the foundation would sponsor twenty students in Bachelor of Science, degree, ten  students in Master of Science, degree and five students in Doctorate of Philosophy, PhD. respectively.
He assured that seed fund will be a life time affair as long as  NCS and the foundation  continue to exist
According to him, after graduation, Zenith Bank and Cyberspace will employ best performing candidates during the programme.
He assured that the foundation will continue to support youth engagement in ICT, adding that he will continue to invest in untapped potentials of the Nigeria youths who he believed have the capacity to compete globally if given the opportunity.
"We support the use of ICT whenever and wherever possible to enhance the standard of living of the society and increase human efficiency.
"Our long-term goal is to put ICT into our education policy ensuring progressive and continuous learning. Therefore, we will see to the sponsorship of the NCS scholarship programme as far as God gives us life. The best candidates are stand the chance to either work in Zenith Bank or Cyberspace", he said
He said that Jim Ovia ICT Foundation is aimed at preparing young people for the modern day work-place, business opportunities, and sharpen entrepreneurship skills.