By Omoh Gabriel
Here are some very interesting arguments put forward by readers on the above topic that was discussed in this column in the last two weeks
Abdu Maikano
If there are illegal refineries in Nigeria, they should be seen as a blessing. Let us face it; it is better for our crude oil to be refined in our country, by indigenous companies than to be exported at great cost to foreign capitals. The solution lies in the regularisation of the ownership of such refineries. We should give the culprits a period within which to strive to register ownership of their refineries and enter into the competitive market of petroleum products marketing.
James Grim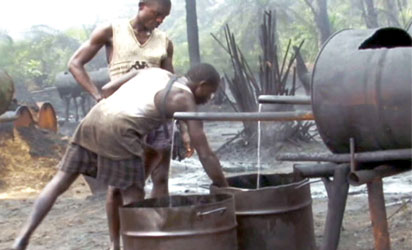 Please, there is nothing good about illegal refineries. Get that straight. We have to take Nigerian sense out of things and start respecting ourselves. Those things are destroying the environment for children unborn. Some components of crude oil are carcinogenic and you should not be in contact with them over a long period.
The processes are very wasteful of the very resources the people say they want to control. Underground water is destroyed. Fishing which is a more important economic activity than crude oil is destroyed.
The mangrove swamps they are destroying are almost impossible to re-grow. People should stop beer palour talk that romanticises or tolerates mass scale idiocy. Even the most sophisticated refineries in the world most communities in Europe and the US will not allow in their backyard but Nigerians, the romanticisers of poverty and degradation of man would somehow justify crude distillation refineries.
Dahiru Bashir
Should others be identified they should be destroyed. There's nothing good about illegal refinery. Why are you even thinking twice about this? If anyone wants to invest let him follow the due process, no short cut.
Joseph
Where there is no legal refinery illegal refineries should be allowed to exist.
Onyeka Edmond-Okafor
Illegal refinery should be a course in the University.
Ayo Ogundimu
The government must tap into people's industry to begin to employ them in the oil industry.
Temi Olasehan
Fuel scarcity. Illegal refineries to the rescue
Mc Enos Cilano
Illegal or legal, let there be fuel & kerosene for the poor masses.
Christian Iwori
Nigeria as a whole cannot refine fuel so why are they disturbing  local people that are trying to survive.
Gbenga Atitebi
If I were the President of Nigeria, I would legalise these refineries and empower the operators if this will solve the acute fuel shortage in the country and end oil theft. Non oil producing countries are not in this horrible, hopeless situation we are in. We are over due for a revolution in this country.
Bamidele Olakunle
I think it is high time for the government to bring these so called illegal refinery owners together for partnership because we need to develop our own brain to make things work. After all, we have people that are refining palm oil for our use and if they can do it perfectly, then we have nothing to fear about these so called illegal refineries.
Nzikkiss Etim
Vanguard you are sick of lack of gasoline right? Hahahahahahahaha it is change, so bear it. Very soon you will go back to tiger battery for energy. Hahahhahahaha; sorry, it is called change. Even when you lose your job for walking long hours because there are no taxis, yes, it is called change. Hahahah, bear it. But please do not fail to update us for we depend on your news for credibility. Sorry, I know how you feel take heart, it is change.
DOI
If there are operators in the informal sector of the Nigerian economy that have developed indigenous ways of refining petroleum products, would it not pay the nation more to investigate the technology used and adopt it for local refining? Nigeria will be better for it if it employs local skills to develop the oil sector.
This is  definitely  the right thing to do. Make provision for acquiring crude oil legally for this group of persons. This will  certainly create new business lines not just for Niger Delta people but for the entire country. But I can tell you that CORRUPTION will not allow the concerned people to see it from this side of the coin. Let them keep destroying them, kill the young men / women doing it and kill the creativity that is  inherent in the very soul of our youth. Let someone wake up, someone need to speak up for our youth.
Omenala
Your federal government is making billions of naira from fuel importation that ends up in private pockets, they destroyed the refineries themselves. Let no one deceive you, Nigeria have the capacity to build 10 refineries in one year.
Pawa2
Treating petroleum to get a refined product is basic chemistry. The product obtained can be used to power cars and other engines but is not anywhere close to the quality of modern refined petroleum and is neither good for the engines nor the environment. The fact that someone produces something that works does not infer innovation that should be encouraged. In most cases, as was the case with Biafra, the products developed were only good for desperate situations but do not form the basis for innovation that is worth developing.
FrankNero Ufomadu
Is their any product that is of best quality on earth? When Japan started manufacturing those funny cars years back, if their government had banned Toyota from production, just because their cars could not match the likes of Mercedes Benz then, where would they have stayed to improve to this modern days Toyota that has almost sent Mercedez out of market in the early 2000s?