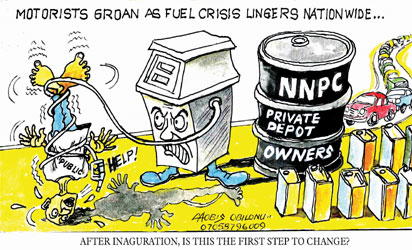 …says subsidy down to N4. 52 per litre
Emma Ujah, Abuja Bureau Chief
The Federal Government has commenced a downward review of the current petroleum products price template, with a view to eliminating inefficiencies in the price regime.
The Group General Manager, GGM, of the Nigerian National Petroleum Corporation, NNPC, Mr. Bello Rabiu disclosed this at interactive session with journalists in Abuja, yesterday.
According to him, the current administration was convinced that petroleum products were overpriced, in Nigeria at the moment, and that with the elimination of inefficiencies, prices of products would go below current pump prices.
His words, "Our review of the current PPPRA (Petroleum Products Pricing Regulatory Agency) template suggests that there are significant inefficiencies in the current template. It is important that changes in the template are based upon a proper evaluation of the costs of the different elements.
"A comprehensive study of the costs of importation is being undertaken. We will be consulting with all relevant stakeholders including the marketing companies and independent experts in order to produce an adjusted template.
"If oil prices continue to fall and if significant inefficiencies are found and eliminated within the template, there will surely be negative subsidy which shall be remitted to the Petroleum Support Fund in line with the PPPRA guidelines."
The GGM added that as being anticipated, an adjusted template would lead to less cost of products which would make provisions for subsidy unnecessary in next year's appropriation, saying, "We don't see the need for subsidy to be in the budget in 2016".
Mr. Rabiu disclosed that, as at Thursday, December 17, 2015, there was only a N4. 52 subsidy per litre. The details are: Cost and Freight N65.48; Logistics (Trader's Margin, Lightening Expenses, NPA, Financing, Jetty –Depot thru put, storage) N10.55; Distribution Margin (Retail, Transportation, Dealers, Bridging Fund, Administration) N15.49, bringing the Open Market Price to N91.52 per litre.
The GGM said that the NNPC did not believe that consumption of petrol was as high as 50 -55 million litres per day as the PPPRA claimed.
Rather, he said that the organization believed that consumption was around 40 million litres per day, using the statistics from its field monitors.
"Government should pay (subsidy) for what Nigerians consume and the people should pay for what they consume, not for what they did not consume," he said.
According to Mr. Rabiu, the new template would become effective in the first quarter of 2016.
Speaking on the current fuel queues, the Managing Director of the Products and Pipelines Marketing company, PPMC, Mrs. Esther Nnamdi-Ogbue said that the normalcy would be restored in a few days as Kaduna was already receiving crude and would commence production from tomorrow.
She said that the development was meant a lot to the fuel distribution arrangement as the new pipelines security arrangement was beginning to yield desired results.